Halloween is just around the corner, and making sure you have enough treats for your guests should be one of the first things you need to worry about if you're hosting the party. You could get off the hook if you're simply attending a party and you don't want to go empty-handed, but hosting a social gathering where food and drinks are expected is no easy job.
Surely, you could just raid some of the local stores in your neighborhood, bag the first 20 items in the snacks aisle if you want to cut corners. But you want this Halloween party to be a night to remember, right? If that's the case, you should start thinking about ways to wow your guests when it comes to snacks, treats, and just about every edible thing that your peers will enjoy at the party.
Considering that the vast majority of us are still struggling not to break our New Years' resolutions, it's easy to see why most of your guests are on health gigs. Thus, you need to be sensible about their needs by providing them with healthy options while also keeping in mind that variety is vital.
Out of ideas? Not to worry, as our guide is here to help you find some of the best healthy treats you could serve to your guests at your next Halloween party.
Halloween Treats
Halloween treats have become essential to any successful theme party. I bet you never went to such an event, grasped at your plastic cup, and bobbed your head to the music while hoping the growling sounds in your belly would go away, right? If that's the case, we're genuinely sorry for you, and that should be an even more powerful motivation for you to be the perfect host.
Most of the Halloween treats we've included in our guide are homemade, meaning that you'll have to sharpen your knife and get your apron ready. However, you may stumble upon some treats that are not 100% homemade and comprise components you could buy readily available from your local store.
Either way, we've designed this guide in such a way as to include healthy Halloween treats that you can serve to your guests without compromising taste and savor. In turn, your guests won't only be grateful for your tasty treats this Halloween, but they'll also appreciate that you took your time to find the healthiest option (as healthy as treats can get, anyway).
1. Halloween Vegetables and Dip – Easy Halloween Treats
Whether you're hosting the party or just attending it, your veggies should be your primary source of carbs. I know that sounds like a no-brainer to some. Still, it's easy to go overboard with Halloween treats and forget about healthy options altogether.
You don't have to make anything complicated for this particular event as most of these vegetables are usually meant to be dipped in something. So all you need is to whip up a quick delicious dip, let's say ranch dressing, if possible homemade (but the store-bought one will do too), prep your veggies, and that's about it! 
You can also cut costs by buying pre-cut veggies at your local stores. Not a bad idea to have a vegetable tray at your party, you know.
2. Halloween Broomsticks – Halloween Treat Ideas
These brooms are easy to make and fun to eat, but most importantly, they're healthy. These Halloween treats include low-fat cream cheese that you could whip up without much hassle (or buy pre-made at your local store). 
But, what makes these little brooms the perfect healthy snacks is that they don't contain any processed ingredients or sugar whatsoever – we know because we made them ourselves!
All you need is a bit of patience and maybe some party music in the background, as it will take about 37 seconds for each treat to be ready. It also helps if you like peanut butter, seeing as you can seamlessly add it to the mix or just leave a jar open next to the broomsticks for your guests to enjoy.
3. Black Dough Bun Spiders – Healthy Halloween Treats
These cute tiny spiders are not only funny to look at but also healthy, simple to make, and fun for your guests to eat! 
If you haven't noticed already, this is one of the healthy Halloween treats that don't include any form of processed ingredients whatsoever – it's just black dough all over! Even the spider legs are made out of black dough (but you could also use carrots or oranges if you want a dash of color).
Oh, and most importantly, they require minimum baking skills. As long as you can knead some dough and bake it into a little bun, the black dough will make no difference. Alternatively, you could buy some easy-bake black dough and get even easier results!
4. Bloody Eyeballs – Halloween Treat Ideas
That's right, here it is, the bloody eyeball – an absolute Halloween classic! But wait, what makes these treats healthy, you may ask? Well, we've decided to keep things as simple as possible and make use of random stuff that you got lying around in your kitchen.
Therefore, you'll only need to make some pancakes, spread some strawberry jam on them, place an entire banana (depending on the size of your pancake) at the middle of each pancake, roll them up, slice them, flip them over, and place a little blueberry on top of the whole thing.
The result should look like the example in the photo we've used above, so try to check it as often as you can for reference if you find it challenging to put everything together.
And don't forget to add in some toothpicks for easy transportation at the party. This Halloween treat will certainly surprise your guests during their first bite, which is pleasant even though it may feel a bit creepy.
5. Frankenstein Rice Krispies – Halloween Rice Krispies Treats
Here it is, the healthy Halloween treat that's easy to make and fun to eat – Frankenstein Rice Krispies Treats! For this healthy Halloween treat, you'll need to buy some Rice Krispies cereals, but you could also opt for some other generic brand ones.
All you'll need is a bit of patience as you have to melt the chocolate pieces one by one using a microwave at 50% power. You could also use pre-made dark chocolate if you don't feel like making everything from scratch, as well as melting some chocolate chips. 
Then, just use two spoons of honey to hold your rice cereal squares with the melted chocolate on top and sprinkle with any candy bits or crushed biscuits that you can find.
You can even go even further by adding graham cracker crumbs on top of your monster for extra effect (but it's more of an aesthetic choice than a necessity).
6. Jack-O-Lantern Mandarin Oranges – Easy Halloween Treats
The healthy Halloween treat we have for you today is a simple one – Jack-O-Lantern Mandarin Oranges! These cute little oranges are easy to make, fun to eat, and most importantly, they require few ingredients.
First of all, you'll need to buy some mandarin oranges and a sharpie marker to create the patterns on each one of them. You may want to use a black sharpie marker, seeing as other colors may not offer the same contrast between the drawing and the peel of the mandarin oranges.
However, if you want to be creative, you could go off-recipe and get a few pieces of whole carrots and remove the top end on each piece. Then carve a hole into each of those carrots and fill it up with a bit of honey.
Now you can place them next to the mandarin orange before serving them at your party, or peel the oranges and drive the carrots through them. The combination may not sound very appealing, but trust us that it's totally worth it.
7. Pumpkin Carrot Plate – Healthy Halloween Treats
This healthy Halloween treat is another simple one – Pumpkin Carrots! To create this spooky snack, you'll need a few carrots, some graham crackers, and a bunch of leafy greens to make the stem of the pumpkin.
First of all, you'll need to find a wide-hole grater and use it to reduce the carrots to shreds. You could also use an automated grater, but that could shred your carrots very thinly, and you'll want them to be a bit larger.
Once you've shredded all the carrots with the grater,arrange them in a round shape on a plate, and use the graham crackers to create a face for your make-believe jack-o-lantern. After completing the face, you need to create the pumpkin stem, which you can make from virtually any edible leafy green.
We recommend using kale leaves because they will stay fresh for longer than other kinds of lettuces – but you could also go for iceberg or romaine if you don't mind them wilting after a few hours.
8. Ghost Pancakes – Halloween Treats
These Halloween treats are great for kids who love to play with their food! You can either make whole wheat pancakes or buy them already made from a supermarket for this recipe. Other ingredients include blueberries and dark chocolate chips/chunks.
Here's how to make Ghost Pancakes. First of all, you'll need to place the pancakes on a plate and twist them so that they form the shape of a ghost. Once the shape has been created, use syrup or honey to make the eyes of your ghost, along with some blueberries (you could also use raisins if you don't like blueberries). The honey is so that the blueberries or raisins stick to your ghosts, obviously.
You can also break off chunks of dark chocolate or use dark chocolate chips to make the mouth, nose, and any other features you want your ghost to have. Of course, if you want to get really creative, you can also add some white chocolate chips to create eye whites for your ghastly pancakes.
9. Spider Deviled Eggs – Halloween Treat Ideas
Our following recipe is the Spider Deviled Eggs, which are perfect for serving at any party. For this recipe, you'll need eggs (depending on how many guests you have), store-bought Mayo (or homemade mayonnaise), and some other ingredients like chopped chives/dill/parsley/olives.
First of all, hard boil your eggs. If you don't know how to do that, just put the egg in a pot filled with cold water and bring it to a boil. Once the boiling point has been reached, cover the pot and turn off the heat source. Let the eggs sit for 10 minutes in a covered pot before draining out the hot water and running them under cold water for a few minutes, so they cool down quickly.
After you've boiled your eggs, place them on a cutting board and slice them in half lengthwise. Remove the yolks from each egg half with your fingers. Make sure to collect these in a bowl!
Once all of your egg whites are hollowed out, add the yolks and mayonnaise into the bowl and mash everything up until it has an even consistency – if you need to, add some more mayo/mayonnaise to make this happen. Add salt and pepper to taste.
Now spoon the mixture back into your hollowed-out eggs and use slices of black olives to create the spiders on this easy but tasty Halloween treat!
10. Cheese And Bread Sandwiches – Halloween Treats
Looking for some Halloween treats that you can quickly whip up without baking? Then you're in luck! Here's how to make Cheese and Bread Mummy Sandwiches – a treat that you'll make in just a few minutes, and without using the oven, too.
To make these treats, you'll need sliced white bread (slices of wholemeal or rye bread also work), cheese slices, mayo or mustard, and any other sandwich toppings you want – pickles, olives, and tomatoes are a perfect topping for these mummies.
First of all, place the slices on plates and spread on either mayo or mustard along with your choice of sandwich toppings (but don't go overboard). Now that you've got a lovely sandwich going on take the pieces of sliced cheese and cut them into thin(ish) strips (as wide as two fingers is fine).
Lay down the pieces of sliced cheese on top of your sandwich, and don't worry about them falling over. As long as you use enough mayo or mustard, they'll stay in place. Last but not least, use olive slices to give your mummy sandwiches eyes and half tomato slices to create mouths for these cute treats.
11. Monster Snack Platter – Easy Halloween Treats
Our following recipe is the Monster Snack Platter, which basically means that you can use various things in your fridge to prepare a treat that's not only healthy but also fit for a Halloween party! This platter is perfect if you're looking for some easy-to-create treats for your guests that are also nice to look at.
To create this platter, you'll need veggies like broccoli and carrot sticks, cheese slices, sliced bread/breadsticks/crackers, yogurt dip in various colors (if you want to go with different dips), ranch dip or dressing of your choice, olives, grapes and, why not, even some mushrooms (as long as they're perfectly edible).
For this platter, you could either chop up vegetables into various monster shapes or simply arrange them so that they resemble a large creature – just try to imagine how they'd look stretched out.
Once you've done that, put everything on a platter with the cheese slices and any other snacks you may want to use to fill up the empty spaces. If you want to impress your guests, serve up a wide assortment of dips in small bowls alongside the monster platter.
12. Roasted Hokkaido Pumpkin – Healthy Halloween Treat Ideas
Another recipe for today is a healthy and tasty treat – it's called Roasted Hokkaido Pumpkin because that's exactly what it is. This dish is great if you're looking to impress your guests with something different but not too complicated to make.
To make this Halloween treat, all you need are three ingredients: the main ingredient (the Hokkaido pumpkin), some olive oil, and garlic powder or salt (if you're a fan of garlic, prepare a bunch of cloves). You can add black pepper or any other spice of your choice if you want some extra flavor during roasting.
First off, preheat your oven to 350 degrees Fahrenheit and take out a baking tray for lining purposes. After that, slice off both ends of the pumpkin and cut slices about 1/2 inch thick into the vegetable's fleshy part – we recommend cutting down the long way for this.
Line up the pumpkin pieces on a baking tray lined with foil and add some salt, garlic powder, or chopped garlic generously on top of each slice. Add some olive oil to make sure that everything sticks together nicely, and bake the whole thing in the oven for 25-30 minutes – you can check if they're ready by poking them with a fork.
Once your Hokkaido pumpkin is done baking, add it to a platter with cheese slices or other appetizers of your choice to create an easy but fantastic treat that all your guests are sure to enjoy!
13. Cookie Monster Cupcakes – School Party Healthy Halloween Snacks
Cookie Monster Cupcakes are a treat that children and adults alike will love – they're relatively simple to make and look very cute. To make these cupcakes, you'll need chocolate cupcake batter (you can either buy it or prepare it yourself), blue icing, blue sprinkles, white frosting bags/tips, blue food coloring, one box of chocolate chip cookies, and candy eyes.
First off, preheat your oven according to the instructions on the back of your chocolate cupcake mix or according to the instructions on the recipe if you made them yourself. Once that's done, fill up 24 regular muffin cups halfway with your batter and bake them for about 15 minutes.
Take your cupcakes out of the oven once they're ready, set them aside to cool down completely before icing them – if it's easier for you, you can stick them in the fridge for ten minutes or so.
Once your cupcakes are nice and cold to touch, start applying your blue color icing first. For this, simply squeeze some icing into one corner of an empty white frosting bag/tip and use food coloring to dye it blue – do this slowly so that you don't end up with too much color. Once done with your blue icing, top your cupcakes off with it – make sure to apply enough so that the chocolate chip cookies can stick on.
After doing all you've done, let your cupcakes set in the fridge for about 15 minutes. Finally, stick two candy eyes on top of each cupcake, pop them in the fridge one last time for about ten minutes before taking them out, then sprinkle some blue sprinkles on top to finish things off!
14. Halloween Canapes – Halloween Treats
Halloween Canapes are a great way to make sure your party is full of energy and excitement. To make these canapes, you'll need bread slices, cheese (sliced, cubes, or better yet, mozzarella balls), olive oil, tomato slices, garlic cloves (optional: if you like garlic), black olives (optional: for decoration purposes only), and peppercorns.
First off, preheat your oven to about 350 degrees Fahrenheit and put some aluminum foil on one of your baking trays. Once that's done, slice up your bread into half-inch thick pieces – this will be the base of our canapes. You can add butter or margarine to each piece before adding more ingredients so that they don't dry out while being baked. Once you're done with the bread, add one tomato slice to each piece of bread.
Next, slice up your cheese into thin slices or squares – you can use this opportunity to start placing them on top of the bread slices. If you used mozzarella balls, you can safely skip this step. Add a pinch of salt and pepper over each one to make sure they're seasoned well, and pop it in the oven for about 10 minutes until nice and crispy. While your canapes are baking, cut up your black olives (if using) and garlic cloves.
Once everything is done baking in the oven, add any olive oil that remains on your tray to one end of a plate before piling up all your canapes onto it – we recommend adding some dried mint leaves for an extra Halloween-y feel. Finally, enjoy!
15. Baked Pumpkin Croutons – Healthy Halloween Treats
Halloween doesn't have to be a time for candy and spooky stories – it can also be an excellent opportunity to get creative with your cooking! To make these delicious Baked Pumpkin Croutons, you'll need pumpkin puree (not pumpkin pie filling), carrots, zucchinis, yellow onion, bell peppers, olive oil, seasoning of choice (we recommend Creole Seasoning ), garlic powder, Italian seasoning mix, crushed red chili flakes, black pepper and salt to taste.
First off, cut up all your vegetables into small cubes before putting them into an oven-safe bowl and adding the right amount of olive oil to ensure they're well seasoned. After that's done, add some salt and pepper over them before mixing everything up.
Afterward, spread the seasoned vegetables out over your baking tray and bake them in the oven at about 350 degrees Fahrenheit for about 10 minutes – this is to make sure they don't fall apart when you move them later on. While everything's baking nice and easy, pour yourself a glass of red wine (if you'd like) before cutting up some bread into small cubes for our Baked Pumpkin Croutons.
Once the vegetables are done baking, take your bread cubes and add them to another oven-safe bowl along with any olive oil that may have been left after baking the vegetables. Toss it all together until each piece of bread is nice and crispy on top while being soft inside. After that, add some pumpkin puree to your bread cubes and vegetables before mixing them thoroughly.
Finally, add some of your seasoning of choice on top of each crouton – if you used Creole Seasoning earlier on the vegetables, put them in a separate bowl for this part. After that's done, plate up your Baked Pumpkin Croutons and enjoy with friends or family! Happy Halloween!
16. Pumpkin Bun Bread – Easy Halloween Treats
For those of you out there who haven't tried pumpkin bun bread, you don't know what you're missing! With this recipe, you'll make ten buns that are perfect for all your Halloween parties or trick-or-treating later on.
To start, preheat your oven to 350 degrees Fahrenheit and line up five ramekins (about four inches in diameter) on a big baking tray. While your oven's heating up, mix the flour, salt, and sugar in one bowl before adding some water, yeast, and olive oil to another bowl – we recommend letting it sit for about five minutes until it becomes bubbly. 
Mix everything before adding the eggs and pumpkin puree (not canned pumpkin pie filling) and baking it in the oven for about 20 minutes. Once that's done, let your bread cool down a bit before adding some icing sugar over each bun and decorating them – if you're going with a Halloween theme this year, we recommend using red frosting to make sure they're spooktacular!
This recipe makes ten buns, so feel free to share these treats with friends or family as well as enjoy them yourself! Happy Halloween!
17. Cream Pumpkin Soup – Halloween Treat Ideas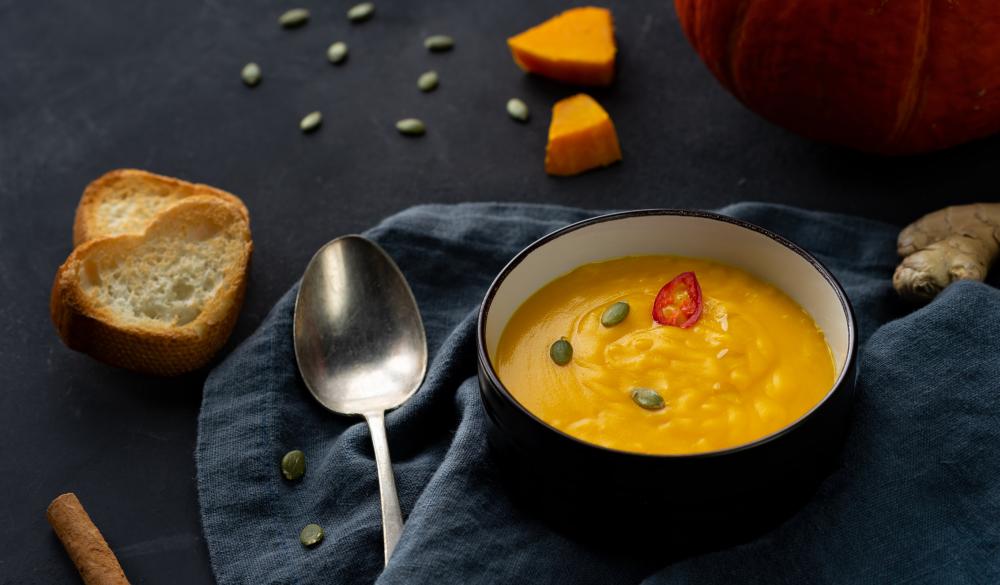 Cold, autumn nights like these are best with a nice hot bowl of soup – but this Cream Pumpkin Soup is an even better treat! To make this yummy recipe, you'll need shallots (about two), unsalted butter (two tablespoons), and some salt to taste. 
After that's done, mince the shallot before adding it into your heated pan with the butter for about three minutes. Once that's done, add some chicken broth (about four cups or more depending on how much soup you want) before cooking everything together at low heat for about ten minutes.
After that, add a cup of cream before bringing your mixture to a boil and adding some sugar, salt, and pepper – we recommend tasting the soup every time you add something new to make sure it's right for your palate. After stirring everything together, take off the heat source and pour the soup into bowls while considering topping it off with some dried parsley flakes if you're feeling really experimental!
This makes four servings, so feel free to share this recipe with friends or family on Halloween – but don't forget that this Cream Pumpkin Soup is best served nice and hot. Happy Halloween!
18. Cocktail Syringes – Party Halloween Treats
Anyone who's trying to get into the Halloween spirit this year needs to try out these Cocktail Syringes because they're perfect for spooking up parties or trick-or-treating! To make one cocktail, start by putting some vodka in a shaker with about half a cup of ice – after that, add your juice of choice before shaking everything together.
After that, pour the mixture either into syringes meant for cooking or plastic cups before decorating it with dried cranberries, olives, lemons, and chili peppers to create the illusion of blood. If you want an even easier way to do this, just add red food dye to regular lemonade and mix until there aren't any little bits in your drink before pouring it into your cups. 
This recipe makes one large serving for sharing on Halloween, but feel free to make more if you want everyone at the party to get in on the fun! Happy Halloween!
19. Oatmeal Pumpkin Cookies – Healthy Halloween Treats For Kids
On days like these, who wants to do anything other than relax with a nice hot cup of tea and enjoy some pumpkin desserts? This recipe for Oatmeal Pumpkin Cookies is perfect for those looking for some yummy homebaked treats!
To make this recipe, start by whisking together flour, baking powder, salt, cinnamon, ginger, and cloves before finding a large bowl. Once that's done, mix brown sugar (two cups) and oil before adding an egg into it – if you want these cookies vegan to feel free to use pumpkin puree instead.
After that's done, add the wet ingredients into the dry ingredients before stirring in raisins or chocolate chips if you're feeling particularly experimental! After everything is mixed well enough, drop your cookies onto a baking sheet and stick them in the oven (at 350 degrees Fahrenheit or 175 degrees Celsius) for about 10 minutes.
Once they're done, let them cool for a few minutes before serving – these cookies will keep fresh for around five days, but we don't think that'll be a problem! Oatmeal Pumpkin Cookies make great late-night snacks and meals to fill you up after all that trick-or-treating! Happy Halloween!
20. Candy Corn Popsicles – Healthy Halloween Treats To Hand Out
Seeing as Halloween is just around the corner, who wants to eat anything that's not a pumpkin or at least made of pumpkin? If you're among those people who answered "Me" to our question, we recommend making these Candy Corn Popsicles because they're perfect for those looking for a guilt-free Halloween treat!
To make these pops, you'll first need some plastic cups or paper cups if you want to get creative. Then, mix water, sugar, and vanilla extract before adding corn syrup (three tablespoons) and stirring everything together.
After that, divide up the mixture into your containers before putting them in the freezer and letting them set (about three hours). Once that's done, add wooden sticks into each mold before adding orange sprinkles on top as well as a bit of green food dye.
Finally, cover your molds entirely in a layer of sprinkles to make the popsicles look like candy corn before letting them sit for about five minutes, then stick them back into the freezer until you're ready to eat. If you want these cold treats vegan, just use a vegan-friendly vanilla extract and omit the sprinkles at the end – Happy Halloween!
21. Almond Pine Nuts Panellets – Easy Halloween Treats
Still looking for some healthy Halloween treats? Then check out this recipe for traditional Spanish candy that would be perfect for any Halloween celebrations coming up! Panellets are a type of sweet made with pine nuts, almonds, and olive oil that native-Spanish people have been making for centuries.
To make these, first, you'll need to crush all your ingredients together into a chunky mixture before dividing it into two bowls. After mixing in powdered sugar (one cup) into each bowl, slowly add water (two tablespoons at a time) until everything starts to stick together like dough.
After this is done, mold the dough into individual candies before placing them onto either parchment paper or aluminum foil. Once they're cooked, let them cool down before peeling them off the sheets and melting chocolate (two tablespoons) over a double boiler.
Finally, coat each of your candies with either vanilla or cocoa powder for decoration! Panellets are perfect for eating throughout Halloween because they're non-perishable and easy to make – happy Halloween, everyone!
22. Vegetable Monsters – Healthy Halloween Treats
We have these cute and colorful veggies that look just like the vegetables in Monsters, Inc., just ready to be served to your lovely guests this Halloween! This tasty meal is perfect for kids or adults who had a little too much candy at their Halloween parties.
All you'll need to make this simple dish are carrots (washed and cut), green beans (washed and trimmed), and either yellow wax beans or summer squash. After cutting each of them into three pieces along with a dash of red bell pepper, get out your olive oil (one tablespoon) and pour it over everything before adding some salt (just one pinch), black pepper (a dash), and chili powder (just a shake).
After both sides of your vegetables are seasoned evenly, stick them on a baking sheet and bake them in the oven at 425 degrees Fahrenheit for about 15 minutes. Once they're done, take them out and add either ketchup or barbecue sauce on top before eating!
These veggies are perfect for trick-or-treating because they're vegan, simple to make, and non-perishable – happy Halloween, everyone!
23. Pesto Pasta Monster – Halloween Treats Ideas
We have a spooky pesto pasta recipe for our collection of healthy Halloween foods that would be perfect for any Halloween dinner party! This dish is both vegan and gluten-free, making it ideal for everyone who's health-conscious. It's not exactly a snack, but like pizza, pasta is a great equalizer, so we're guessing your peers won't skip on this delicious meal.
To make this fantastic dish, get out a pot and boil some water (one liter) before adding a handful of spaghetti noodles (uncooked). Once the water is at a rolling boil, set your timer for ten minutes before making the sauce.
Wash a bunch of basil leaves, then take a garlic clove and crush it together with salt (one teaspoon) and pepper (just one shake) in either a pestle or mortar. Next, add some olive oil (two tablespoons), pine nuts (two tablespoons), and Parmesan cheese (one/fourth cup) into the mixture before whipping everything together. Voila! You've just made pesto sauce!
Once this is done, simply mix your sauce with the cooked pasta before adding some parsley flakes over the top for decoration! This dish would be perfect for bringing along to any Halloween dinner party because it's easy to make, vegan, gluten-free, and non-perishable (well, just don't leave it out for days). Have a happy Halloween, everyone!
24. Pumpkin Honey Pancakes – School Party Healthy Halloween Snacks
If you're trying to find the perfect sweet and healthy treat for your Halloween party, we have some pumpkin pancakes that would be just perfect for you! One of the best parts about this dish is that it's both vegan and gluten-free, making it an excellent option for those with dietary restrictions.
To make these delicious pancakes, get out your usual pancake mix (one box) along with eggs (two), vanilla extract (three teaspoons), cinnamon powder (a dash), and some milk. After combining all of these ingredients into a bowl, add one cup of pumpkin puree before throwing everything together into a blender or food processor.
Once the batter has been created, pour it out onto a skillet over medium heat before sprinkling some dark chocolate chips. Once the edges of your pancake start to turn golden brown, flip it onto the other side and remove the pancakes from heat once they're golden brown on the other side, too.
Finally, enjoy your pumpkin-y brinner by adding some maple syrup (or honey if you're vegan) and butter on top. These pancakes are perfect for any Halloween brinner – happy Halloween!
25. Butternut Squash Chips – Healthy Halloween Treats For School Class
Not a big fan of sweets and looking for some savory treats? Well, you're in luck; this recipe is a Halloween twist on an otherwise basic side dish – butternut squash chips. These delicious treats are perfect for everyone because they're vegan, gluten-free, and have a straightforward recipe that anyone can follow!
To start things off, preheat your oven to 425 degrees Fahrenheit before getting all of your ingredients together. For this recipe, you'll need one small butternut squash, one tablespoon of olive oil, salt (one teaspoon), and pepper (just one shake). 
Slice the butternut into thin fries, mix it with your other ingredients and add the zest of half a lemon into the mixture before spreading them out onto either baking sheets or cake pans.
Bake these snacks in the oven for about 40 minutes before checking on them; if they feel crispy enough to your liking, take them out and enjoy! These chips are delicious dipped in either ketchup or BBQ sauce. Happy Halloween!
26. Grilled Butternut Squash – Easy Halloween Treats
If you're looking for a recipe that's both healthy and delicious, look no further; this grilled butternut squash is absolutely perfect. Not only does it have less than five ingredients, but it's also vegan, gluten-free, and unbelievably easy to make!
To start things off, preheat your oven to 375 degrees Fahrenheit before getting your ingredients together. For this dish, you'll need one medium-sized butternut squash (halved lengthwise), two tablespoons of olive oil, salt (a teaspoon), and pepper (just one shake). Once everything has been gathered together, place these halves face down onto a baking sheet covered with parchment paper.
Bake each side for about 25 minutes before flipping over the squash onto the other side. Once this has been done, cook on the other side for another 25 minutes before these can be served.
You can enjoy this healthy Halloween snack by adding some white balsamic vinegar, grated pecorino cheese, and fresh mint leaves on top! These ingredients are all optional, though, so you could either get creative or skip them altogether. We guarantee you and your guests will absolutely love this treat.
27. Cream Paste Cookies – School Party Healthy Halloween Treats
If you're looking for a different type of treat to serve at your Halloween party, look no further than these cream-paste cookies! They are delicious, super quick and easy to make, and have an incredibly creative design. To start things off, preheat your oven to 400 degrees Fahrenheit before gathering all of your ingredients. 
You'll need one pack (or twelve ounces) of softened cream cheese, two cups of powdered sugar, and some food coloring for this recipe. You can also purchase monster-shaped cookie cutters if you're not a big fan of the standard round shape.
First off, throw in all of your dough ingredients into a bowl (cream cheese included). Once everything is ready to go, set up three bowls; one with flour (two cups), one with eggs (two), and one with sugar (one cup).
Once the eggs have been whisked, add them to your batter before mixing half the flour. After this is done, add both vanilla extract and whipped cream, and then separate your dough into three equal parts before rolling them up into balls after combining everything.
Finally, place each ball of dough onto a different plate and cover each cookie with powdered sugar, then roll them over so that they're entirely coated. After that, place the cookies on parchment-lined baking sheets, set a timer for ten minutes, and check on them before continuing the process.
You can decorate the cookies with little monster faces or just use the monster-shaped cutter to turn them into Halloween-appropriate snacks. Once they're done baking, let them cool down for about five minutes before removing them from the pan and serving! Happy Halloween, everyone!
28. Pumpkin Pancakes – Healthy Halloween Treats For Kids
If you're looking for some new recipes to serve at your Halloween party, look no further than these delicious pumpkin pancakes! They are healthy, vegan, and beyond easy to prepare. To start things off, preheat your oven and start gathering the required ingredients.
For this recipe, you'll need one can (or 15 ounces) of pure pumpkin puree, two teaspoons ground cinnamon, one teaspoon vanilla extract, two tablespoons coconut or cane sugar, 1/2 cup almond milk (or any dairy-free alternative), baking powder (1 tsp.) and a dash of salt. Also, make sure you purchase a cookie cutter in the shape of a jack o' lantern before getting started.
Remove the lid of your pumpkin puree can, stick a large spoon inside, and scoop out all of the contents (we're saving these for later). After this is done, pour all of the remaining ingredients into your blender (minus the cookie cutter) before blending on high until completely smooth.
Once everything has been mixed like a batter, it's time to begin cooking! Use some non-stick spray or butter on your pan, set the burner on medium heat, and start pouring the pancake batter once the pan's heated. If you don't feel confident pouring the batter by hand, feel free to use an ice cream scoop instead; either way is excellent so long as you get even portions out.
After scooping, place a cookie cutter on top of the batter before pressing down with a spoon to make the jack o' lantern design in your pancakes. Cook these until they begin bubbling, and flip over for an additional 30 seconds before transferring the cooked pancakes to a wire rack in a warm oven while you cook any remaining batches.
Once all of your pancakes have been cooked, let them cool for about five minutes, then serve! This dish is excellent when served alongside maple syrup but can also be enjoyed plain if that's what your guests prefer. Happy Halloween!
29. Halloween Lollipops – Healthy Halloween Treats To Hand Out
A fun and easy idea for a spooky treat is these Halloween lollipops! Not only do they look amazing with their white chocolate and red candy coating, but there's also a lot of room for creativity when it comes to the decorations.
To start this recipe off, you'll need one package (12 oz.) of white melting cand wafers, 12 popsicle sticks, an orange candy melt or Wilton Candy Melts in Scarlet Red, black edible marker, red decorator gel/Wilton Edible Writer in Red, six-inch square baking pan plus parchment paper and wax paper. Of course, an essential part of this step is gathering together all of your ingredients before getting started!
Set up your pan with two sheets of parchment paper and place a sheet of wax paper on top to prevent the candies from sticking to the bottom once they've been melted; we don't want any mishaps when it comes time for that part!
Pour both packages into a microwave-safe bowl or measuring cup and melt according to the directions found on the box (usually about one minute in my experience). Once fully liquefied after whisking for a few seconds, pour evenly over the wax paper and let it sit until hardened (about ten minutes or so).
Remove all of your lollipops from the pan along with their sticks and place them aside. Next, add your candy coating (or any other chocolate) and melt according to the directions on the package (typically about 30 seconds).
After that, let everything cool for a few minutes before beginning to decorate your lollipops. To do this, you will need either an orange candy melt or Wilton Candy Melts in Scarlet Red (the former tastes better but is harder to find), plus a black edible marker. For each of these, get approximately one teaspoon of coating ready, place it into a disposable piping bag, and then snip off the tip.
From here, you'll want to draw faces onto each end of the stick before standing upright into another bowl that contains roughly two tablespoons of melted candy coating or chocolate. Let everything cool until wholly hardened (usually about ten minutes), then transfer to a plate or serving tray before enjoying!
Alternatively, you could just make some plain lollipops and use some food-safe wrapping paper accordingly to turn them into little ghosts. It's all about the presentation, anyway, and your guests will adore them.
30. Halloween Eyeball Cocktail – Halloween Party Treats
One fun and easy way to decorate for Halloween is with a spooky cocktail like this one! Not only is it great because you can make it in advance and refrigerate until serving, but it's also perfect if you're looking for a drink to share with guests. This recipe starts by gathering together the following ingredients:
1 1/2 oz. Bacardi® 151 rum, 2 oz. orange juice, 1/2 cup (4 fl oz.) heavy cream, 4 tsp. superfine sugar, 2 tsp. fresh lime juice, ice cubes, orange slices, and ectoplasm sprinkles. All of these ingredients are readily available at most stores year-round; don't worry about running out to collect everything at the last minute! You'll also need a small pitcher or measuring cup plus an eyeball ice cube tray.
Once these ingredients are present, you can begin making your cocktail. To start, pour the Bacardi rum, orange juice, sugar, and lime juice into a pitcher, then stir until all of the sugar has dissolved. Cover with plastic wrap before refrigerating for one hour.
Next up is to remove your ice cubes from their tray via pushing them out or using warm water to release them, depending on the tray's design. Take each ice ball and roll them in ectoplasm sprinkles before transferring back into their tray for freezing again (this will let the balls have an even spookier look once placed in your drink).
Once this is done, all that remains is to pour the heavy cream into your pitcher, followed by stirring everything together until it's evenly combined. Next, transfer the mixture to a tall glass before gently floating an ice ball on top of each drink.
To complete this cocktail for serving, you'll want to garnish with orange slices and ectoplasm sprinkles; these can be added directly on or around the glass however you wish! We hope you have fun serving this at your Halloween party; let us know how it goes if you choose to give it a shot. Happy Spooktober, everyone!
31. Meringue Ghosts – Halloween Treat Ideas
With Halloween coming up, we couldn't make a list of party foods without including some sort of ghosts or pumpkins! In this case, why not try these cute little meringue ghosts?
To make these ghastly bites, you will need the following ingredients: 2 egg whites, 1/4 tsp. cream of tartar, 1 cup superfine sugar (also known as baker's sugar), a few drops of white food coloring, and a piping bag plus a star tip. As far as equipment goes, you'll also need a baking sheet lined with parchment paper plus an electric mixer.
Once all your supplies are present, it's time to start cooking! Begin by preheating your oven to 200 degrees Fahrenheit. The first step is to fill your piping bag with the meringue mixture (you'll want to use the star tip here!) and pipe out roughly four-inch ghosts onto your baking sheet.
After that, place them in the oven, seal your oven door and let them harden; this should take about three hours. Now turn off your oven and leave everything inside for another thirty minutes before taking everything out (this will help prevent cracking).
After you've taken out the sheet full of spooky treats, it's time to decorate! You can draw on eyes or other features using food coloring then dust with superfine sugar to resemble spooky ghosts. Enjoy these little guys while they last because once the trick-or-treaters start arriving, they'll be gone in a flash.
32. Pumpkin Orange Juice – Healthy Halloween Treats For Kids
If you really want to get into the Halloween spirit, why not try serving some pumpkin orange juice? This drink is pretty straightforward to put together, so let's go over the necessary components now.
To start things off, you'll need a small sugar pumpkin, an orange, a tablespoon of brown sugar, cinnamon sticks, and whole cloves. As far as utensils go, you'll also want a cheesecloth or a coffee filter plus tongs. Finally, you will need two cups of water to help dissolve everything in.
To prepare this drink, start by cutting the top and bottom off your pumpkin. Next up, cut it in half so you can remove all of the innards before rinsing well. After this is done, use a fork to poke holes into it, followed by placing it on a baking sheet and baking at 350 degrees Fahrenheit for one hour.
Once your pumpkin has finished cooking and cooled down, it's time to move on to actually making your juice! First, take the seeds out, then scoop the tender portions of orange pumpkin flesh into a pot. After that, add two cups of water along with the cinnamon sticks, cloves, and brown sugar before boiling everything together until reduced by half.
Next up is to strain your mixture through a cheesecloth or a coffee filter in order to get the juices while disposing of all solids at this point. With that done, you are ready to go into serving! Pour orange juice into cups, then garnish with cinnamon sticks or other spices before enjoying your healthy Halloween beverage!
33. Fondant Ghost Cupcakes – Halloween Treats
Ghosts are a great theme for Halloween parties, so why not try some fondant ghost cupcakes? This recipe is pretty easy to complete, but you'll need a few supplies before starting. For example, having a piping bag and circular tip will help this process go faster, and buying candy melts will make decorating much more manageable. As far as ingredients go, thus far, all you'll need is cake mix, a ghost-shaped baking pan, plus some chocolate chips.
Before anything else, preheat your oven according to the directions on your cake mix box, then lightly grease your baking mold and gently dust it with flour. After that is done, start scooping in the mixture and place some chocolate chips into each cavity. By now, your oven should be ready to go, so place cupcakes in and bake for about twenty minutes or until the toothpick test comes clean.
Assuming you waited long enough before taking your goodies out, all that's left is to decorate them! Start with a bit of icing made from confectioner's sugar, vanilla extract, and a splash of milk to create the cloth on your ghosts. Now make the eyes (use candy melts), then pipe on two small circles. Subsequently, you can add a smaller dot inside of the eyes and follow up by dusting with nonpareil sprinkles. Even if they don't turn out perfect on your first attempt, just remember — practice makes perfect!
34. Spider Chocolate Cakes – Easy Halloween Treats
Chocolate cakes are a great snack or dessert during any time of the year, but if you want to try something with a little more of a spooky flair, why not give spider chocolate cakes a shot? To start things off, we'll need some cake mix plus seven small bowls. These treats aren't too difficult to put together and will look great when completed.
Baking is similar in some ways to making pancakes — simply add all ingredients into your mixing bowl, then blend using an electric beater until smooth. If you're good at pouring things without spilling them, go ahead and fill up seven cups, then put some diced fruit such as strawberries and bananas into each cup. Now it's time to spoon out portions of your cake mix into seven sections on a baking sheet before sticking in the oven for about twenty minutes.
Once done, take them out and place them on a cooling rack, then make sure to turn down the heat in your oven. Use an icing bag along with a tip and chocolate frosting (one ounce per cupcake) to decorate them like regular ol' spiders! If you're not satisfied with how they look, no one is going to judge you if you want to try again or even change things up — after all, that's why we call these kitchen experiments!
35. Halloween Green Finger – Healthy Halloween Cookies
This recipe is excellent if you want to make treats that are good for your health but delicious at the same time! Green fingers are a simple treat to make but do require some preparation beforehand. To start, you'll need cookie dough plus green food coloring followed by rolling out your dough on top of wax paper. 
First of all, you have to mix your dough with green food coloring. If you don't care about the color of the fingers, you can just leave them as they are. Now cut fingers out of the dough with a plastic knife; make sure you have an icing bag around; it will be helpful during the decoration phase.
Place the fingers into the refrigerator and leave them there for about fifteen minutes. While they're inside the fridge, preheat the oven and line a baking sheet with parchment paper. With these steps complete, take the doughy fingers from the refrigerator, place them on a baking sheet and bake them for ten minutes or until slightly golden brown. Optionally, you could use almonds to create fingernails for the fake fingers, but it's entirely up to you.
Once they come out of the oven, allow them to sit for about thirty minutes before decorating them with white icing and green sprinkles. Again, if you're not a fan of icing and sprinkles, you can safely skip these steps.
After that step is done, all that's left is to enjoy these little treats, which will not only taste great but also spook some of your most squeamish Halloween party guests.
15 More Halloween Treats to Try
We have a few more Halloween treats ready for your Halloween menu so you can try them out. 
36. Tangerine Pumpkins
La Jolla Mom took some tangerines, peels them and then added a celery stick stem to finish off her mini pumpkin masterpiece. These are great to add to the kiddos lunchbox or have them waiting on the table for an after school treat. Of course, you can indulge too in the sweet deliciousness and festivity!
37. Monster Teeth
Here's a fun treat to serve up at the Halloween slumber party of throughout the night of trick-or-treaters! Grab some apple slices, smear the peanut butter and add mini marshmallow "teeth." You can check out all of the easy details over at Mr. Breakfast.
38. Pumpkin Quesadillas
Lunchtime can be festive and made healthily too. Check out these pumpkin-shaped quesadillas over at Lil Luna. You can use a knife to create your masterpiece or you could use cookie cutters too! Add the cheese, melt it and enjoy!
39. Witch Fingers
Fork and Beans went all out with this great Halloween treat idea! Create some witch fingers with the help of some low-cal celery. Fill the groove with peanut butter, top it with a drop of red food dye and an almond!
40. Jack-O-Lantern Carrot Rice Balls
Instead of rice krispy treats, make some carrot rice balls like these cuties from Apron Strings! They're tasty, kid-friendly and they aren't filled with sugar. Instead, you have a festive snack without all the excess, less-than-healthy ingredients we don't want in our bodies or our little ones' either.
41. Spider Crackers
These are super easy to whip up in the kitchen as well. And you can make sure the pieces you've chosen are the "good" kind. Knoxville Moms gives us all the deets behind these spiders.
42. Banana Ghosts
If you check out this YouTube video, you'll learn all about how to make these banana-coconut ghosts come to life. Perfect as a fun, afternoon treat, they're sweet enough to get excited about but healthy enough for moms to feel at ease. The kiddos may even want to help out in the kitchen with these ones.
43. Candy Corn Fruit Cup
Indulge in some candy corn without all of the high fructos corn syrup. Lasso the Moon has the recipe behind this fruity parfait and you'll love every bite. It's kid-friendly too, so they'll get excited for snack time as well.
44. Cyclops Kabobs
You'll have to much fun putting together these funky, cyclops kabobs. Get creative and check out the ideas over at Princess Pinky Girl. All you have to do is add a chocolate chip eye to top it all off.
45. Roasted Pumpkin Seeds
You get six different flavors to try over at Wholefully! After you carve the pumpkins, don't throw out the seeds! Clean them off and turn them into a tasty snack instead.
46. Bat Energy Bites
Chelsea's Messy Apron has a yummy recipe for energy bites that look like bats! Check out how to whip these cuties up and them have the kiddos take them in for snack time at school or munch on them yourself while you're running your errands around town.
47. Googly-Eyed Butternut Squash Sugar Cookies
Healthy Nibbles and Bits baked a delicious batch of butternut squash sugar cookies and we can't get over how adorable the finished product is. They're reminiscent of a "spooky" Halloween creature, so the kids will love them. And, hey! They're vegan too!
48. Mummy Toast
Check out this mummy toast from Bored Fast Food! It tastes like a pizza, so the kids will enjoy it. But you also can add some layers and other ingredients as well to "adult" it up a little bit for yourself, Roma tomatoes or pesto could be a great addition.
49. Citrus Candy Corn Bundt Cake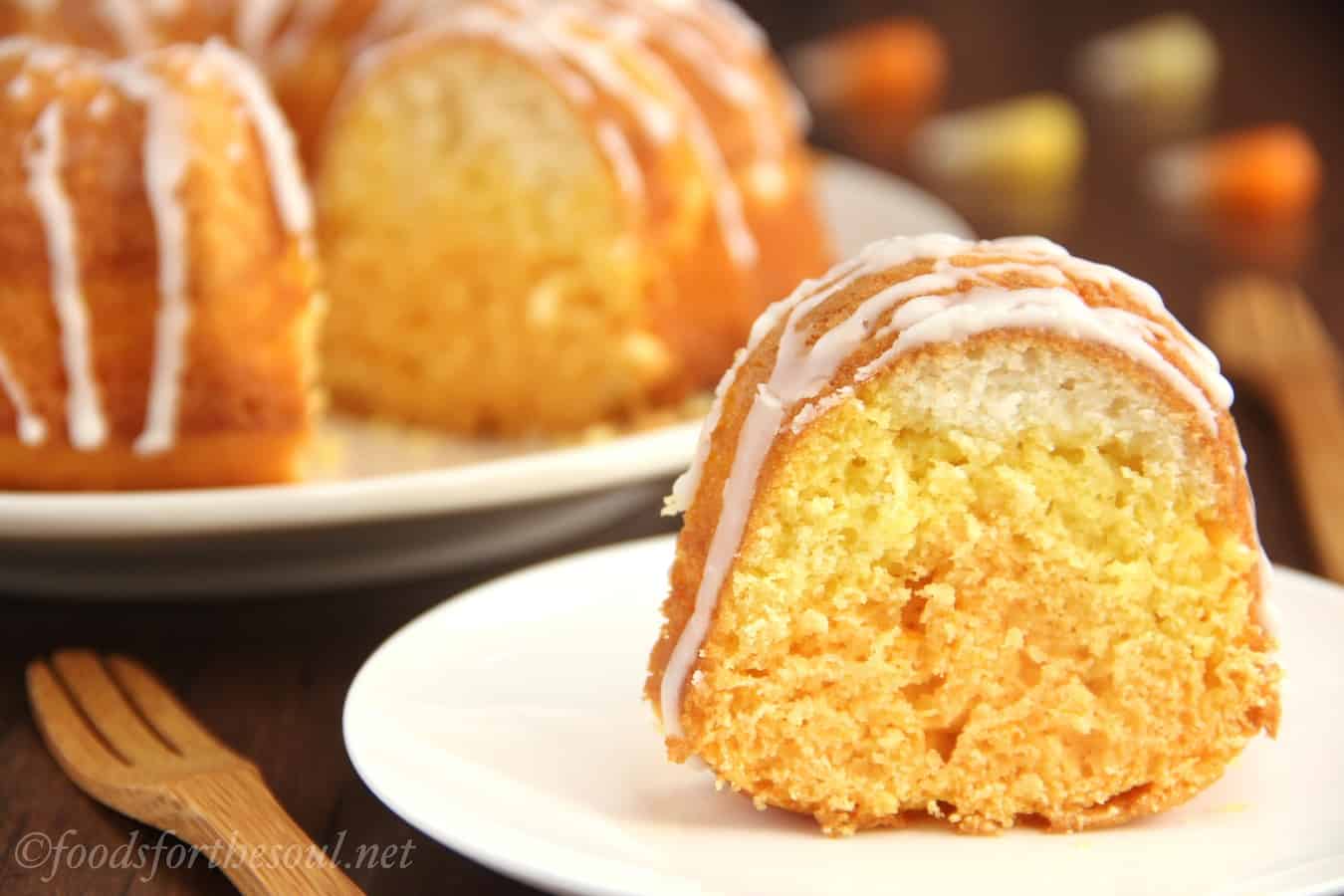 Add a bit of tang to the Halloween dinner table. Over at Amy's Healthy Baking, you'll be able to grab this sweet recipe for a citrus bundt cake with a candy corn ombre finish. It's a great dessert to celebrate the fun holiday with!
50. Witchy Guacamole Dip
Spicy Southern Kitchen finished us off with this witchy treat. Turn your favorite guacamole dip into the perfect Halloween party food! Don't forget the blue corn chips to finish it all off!
Final Words
The great thing about Halloween is that you are free to get creative with any treats that you make. So, break out the cooking supplies and start brainstorming! Remember, whether your snacks are store-bought or handmade, these recipes will be sure to wow your trick-or-treaters or guests.
While most of our recipes are for snacks and quick, bite-sized treats that you can simply snag off the table, some of them are more fit to be brought to a dinner Halloween party. Therefore, you need to make sure you adapt these recipes to the scenario they fit best and not bring, for instance, Pesto Pasta to a dinner where finger food is expected.
Furthermore, some of the recipes we've used in our guide are intended for a mature audience, such as alcoholic beverages. Considering that they're pretty appealing (bright, colorful cocktails), make sure you don't spread them out at a party where kids can easily sneak them without anyone noticing.
All in all, this holiday is all about having fun, so make sure to enjoy making and eating these tasty treats! Happy Halloween, everyone!
The post 50 Healthy Halloween Treats To Serve Up This Season appeared first on DIYs.com.