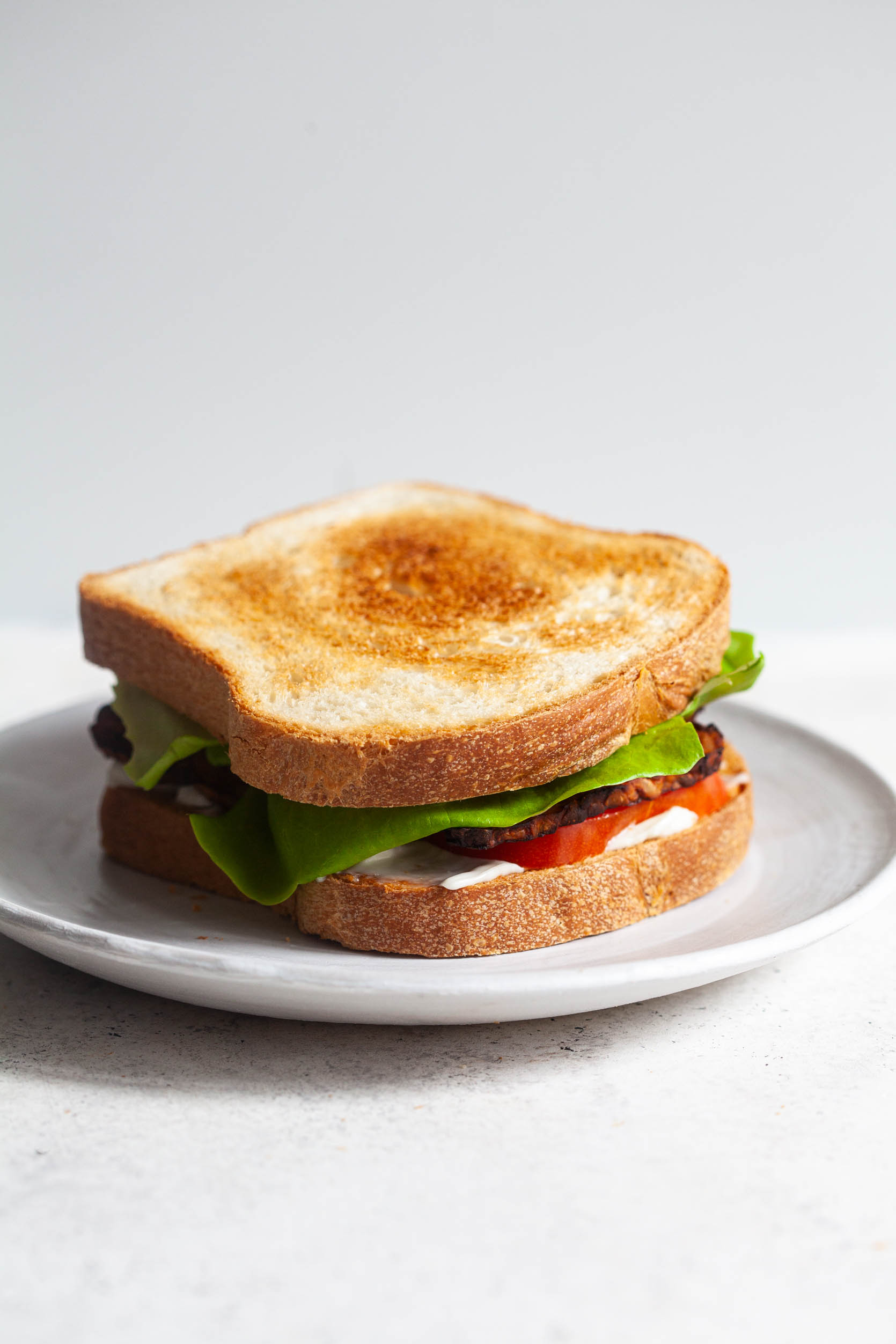 Nothing could make me happier than seeing how much interest there is in baking right now, and especially bread making. Baking consistently brings joy to my life, but I don't think anything gives me as much comfort and sense of satisfaction as making bread. All kinds of bread, from sandwich breads to rustic loaves, yeasted breads to sourdough, whole grain loaves to sweet, enriched doughs.
I've wanted to share a basic recipe on Instagram stories for a while now, but I've been stumped about what/how to share. The truth is that I love making bread, but I still consider myself a novice, and I don't have too many original recipes. I also don't have any tips, tricks, or techniques that feel like my own, or like insider knowledge. Everything I know about making bread is something I've learned by reading, practicing, and reading some more.
A couple weeks ago, though, I made the same veganized version of King Arthur's favorite sandwich bread that I've been making for a couple years. I don't have to do much to veganize the recipe, except that I use vegan butter and a 50:50 mixture of plant milk and water (as opposed to all milk). I also tend to use bread flour when I make it, rather than all purpose. (Though I've definitely made it with all-purpose when I didn't have any bread flour on hand.)
It's barely my creation, but I've made it enough times that it has the feel of something personal and cherished.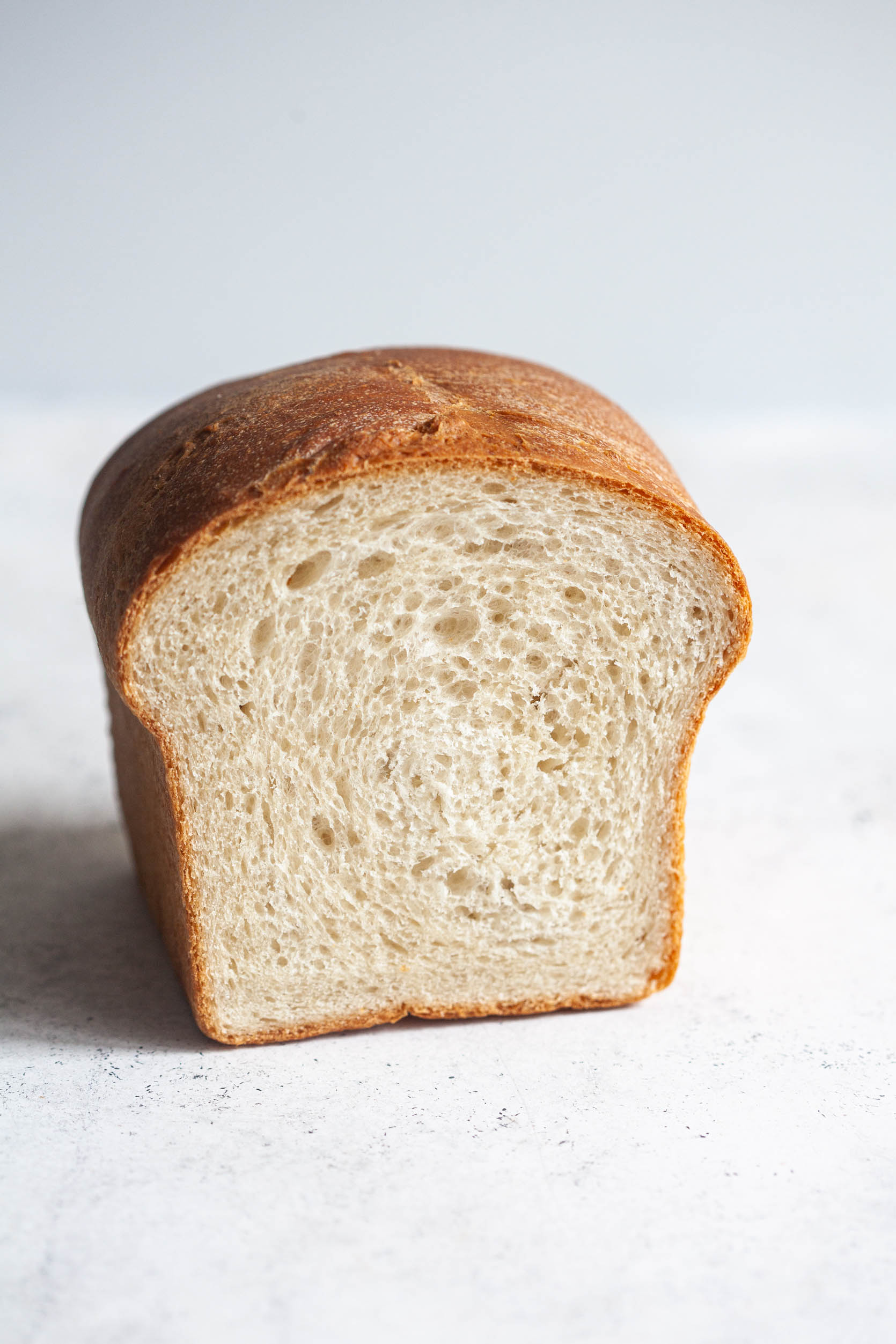 Every time I cut a loaf open for the first time, I have to pause and smell the buttery interior and marvel at how light and fluffy the crumb is. It's really the ideal sandwich bread: soft, easy to slice, perfect for making toast, and with a crumb that's tender but also tight enough to hold any and all of your sandwich fillings in place.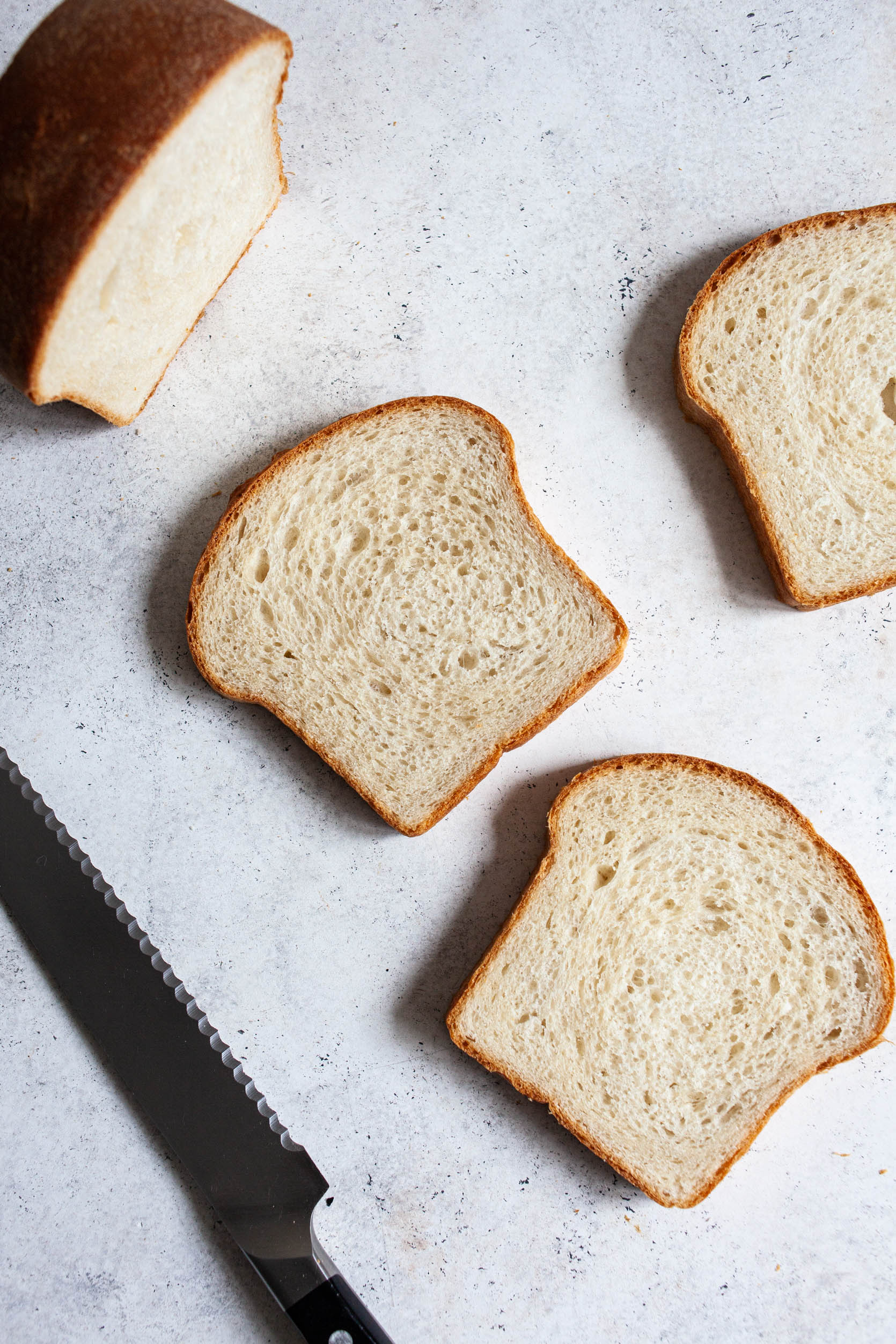 I know from experience that, when you're just starting out with bread making, it's easy to get overly ambitious quickly. You want to experiment with fancy techniques; you want to start making the most authentic artisanal loaves at home; you want to use any and all of the cool alternative and whole grains.
It's understandable, but in my experience, bread making is a marathon, not a sprint. It took me so long to get comfortable with the mechanics of kneading dough, knowing what to look for in a bulk rise and in proofing, learning how to adjust moisture and fat with the type of flour used. I'm still figuring out exactly how long my bread should be left to rise in my apartment, since ambient temperature can be really important.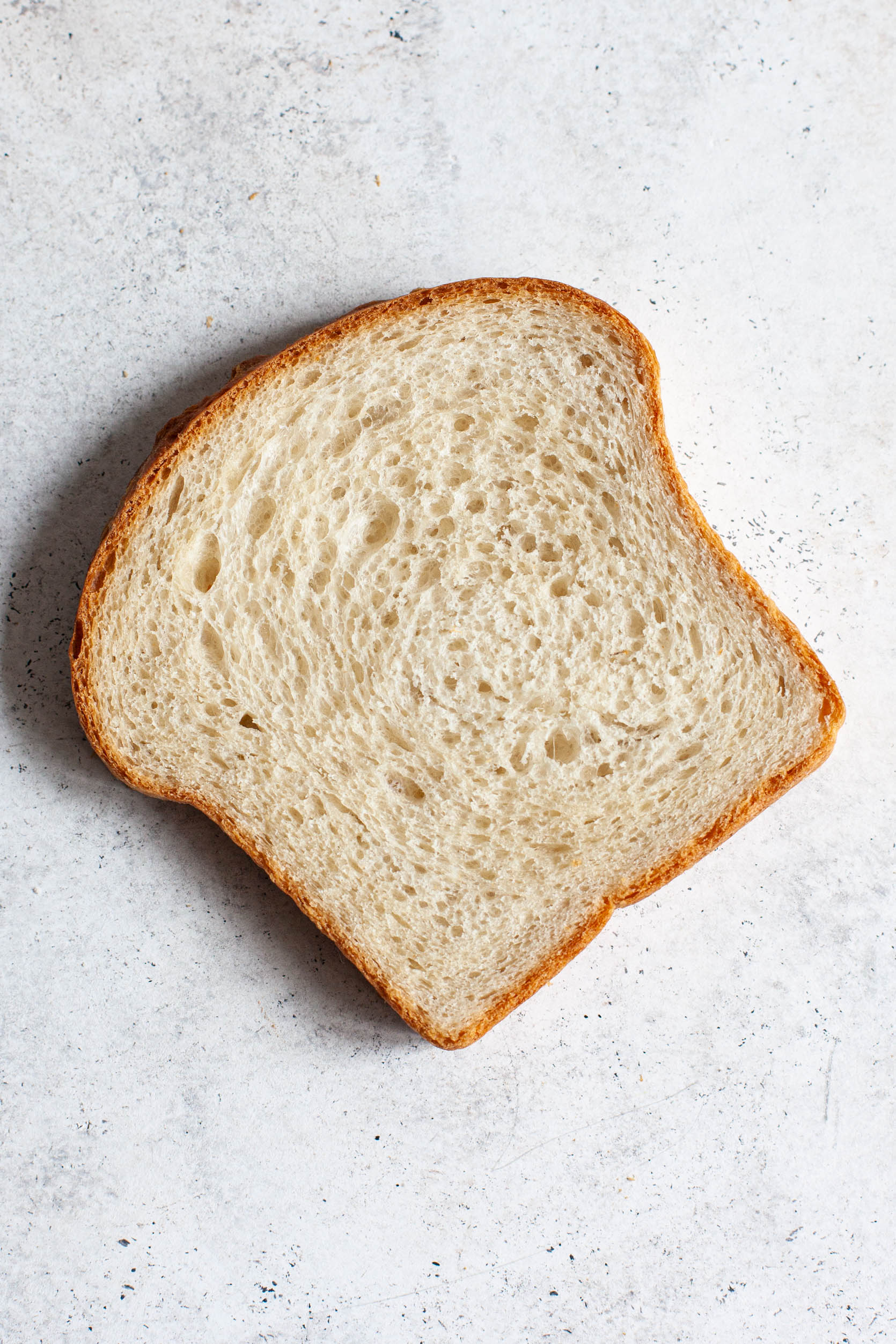 So I think there's a lot to be said for starting with a recipe that is forgiving and reliable, and this recipe is it. I've had loaves that had better rise and a slightly more even crumb than others, of course; that variability is just part of bread making. But for the most part, it has never let me down, and it lends itself to the most authentic vegan BLTs I've ever had (I make them with my smoky tempeh strips from Food52 Vegan and vegan mayo).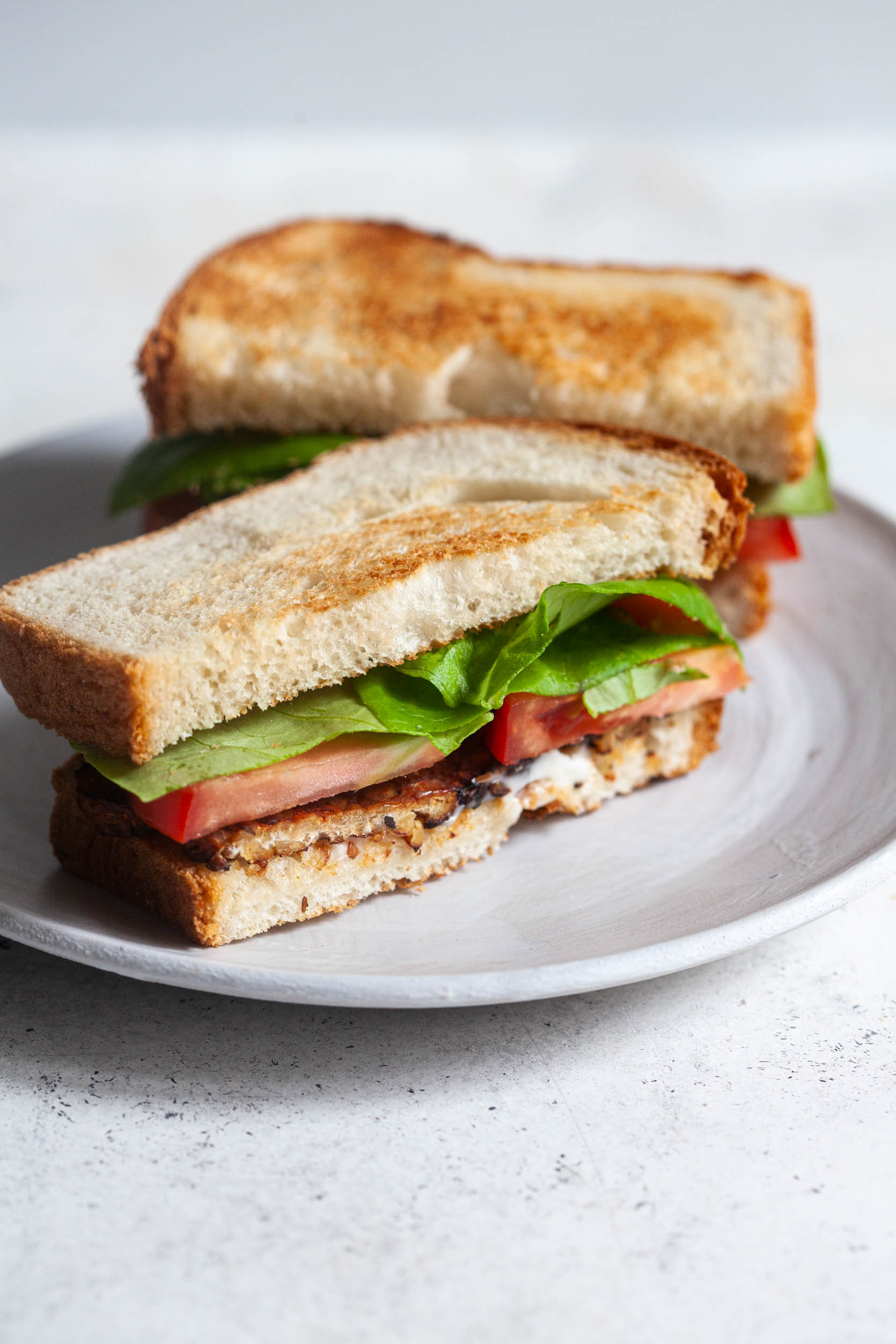 If you don't have bread flour at home, that's fine. All purpose will also work well. I don't personally recommend substituting a whole grain flour here, because the point of this loaf (for me) is its perfectly fluffy, light crumb, and whole wheat flour will change that. But I hope to share one or two of my sandwich loaves that incorporate whole grains—like this maple oatmeal bread—soon.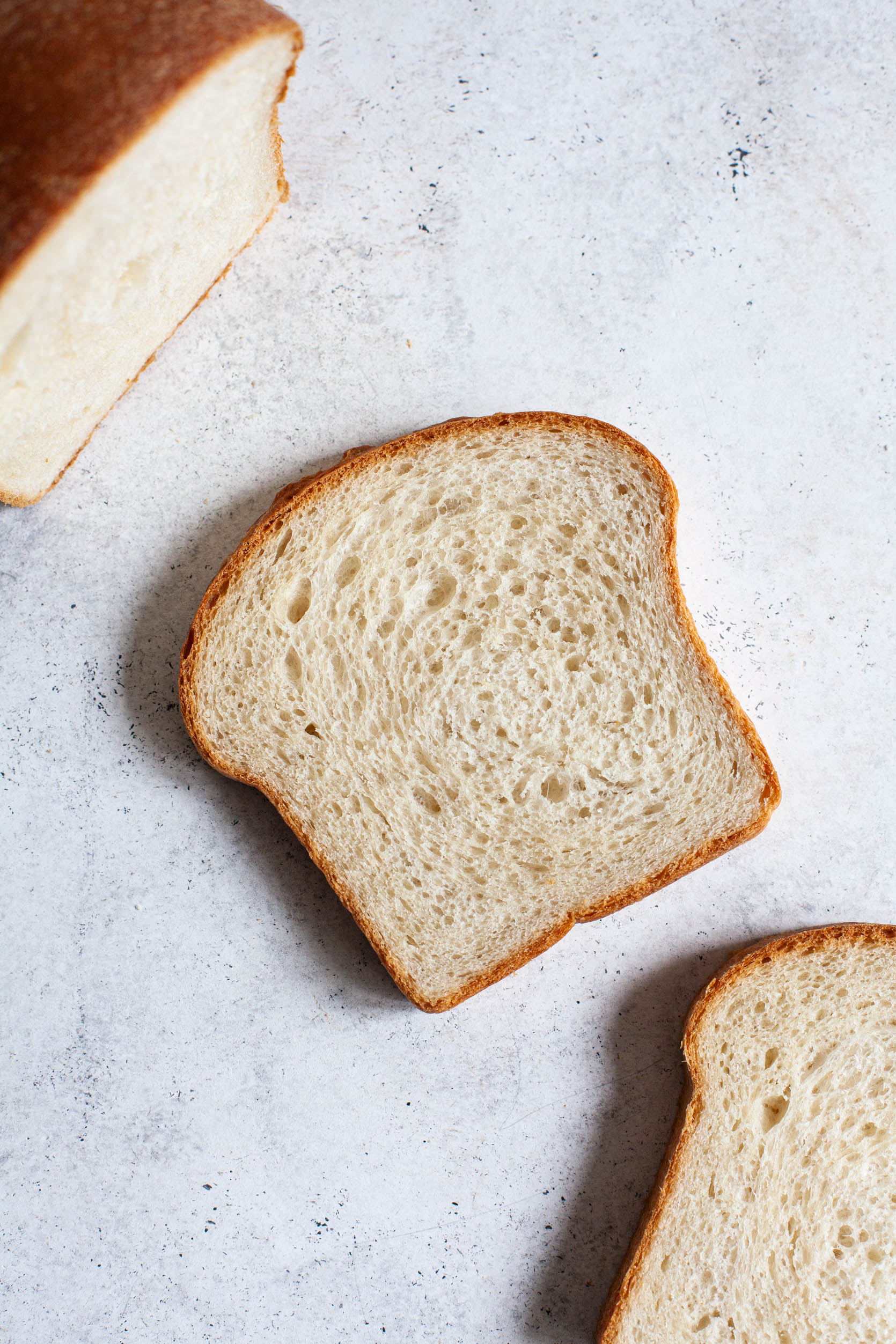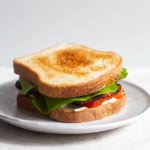 Print
Classic White Vegan Sandwich Bread
Ingredients
2

tablespoons

(28 g) vegan butter*

1/2

cup

water

1/2

cup

non-dairy milk of choice (excluding full fat, canned coconut milk)

3

cups

(361 g) bread flour or unbleached, all purpose flour

1 1/4

teaspoons

fine kosher salt

2

tablespoons

(25 g) cane sugar

2

teaspoons

(6 g) instant yeast**
Instructions
Melt your butter in a small saucepan. Add the non-dairy milk and water to the saucepan. Heat the liquid to between 105-115F (if using a thermometer) or until the water is warm to the touch but not piping hot or painful when you dip your pinkie finger in. (I usually melt the the butter, add the liquids to the saucepan, and heat for only 30 more seconds before the liquid is warm enough to use.) Set this mixture aside.

Whisk the flour, salt, sugar, and yeast together in a large mixing bowl. Pour in the wet ingredients. Mix with a spatula until you have a sticky dough ball.

At this point, you can knead the dough for about 5-6 minutes in a stand mixer fitted with the dough hook. (If you do this, you can also mix the dough in the stand mixer bowl, rather than a mixing bowl). If you don't have a stand mixer, lightly flour a surface and knead the dough by hand for 6-10 minutes. Either way, stop when the dough is very smooth and supple and withstands stretching.

Transfer the dough to a lightly oiled bowl, turning it once in the bowl to give it a coat. Cover the bowl with a cloth and allow the dough to rise for 1 hour, or until puffy and nearly doubled in size.

Preheat your oven to 350F. Grease a 9 x 5 x 2 1/2 inch or 8 x 4 1/2 x 2 1/2 inch loaf pan with vegan butter (or spray it with oil).

Lightly oil a countertop and turn the dough out onto it. Stretch it into a rectangle about 9 inches wide and 11 inches long. Have the wide side facing you. Starting at the top edge, roll the dough into a log. You don't want to roll too tightly, but you should create something compact, with a little surface tension. Gently tuck the side ends in and make sure the seam of the bread is underneath the roll. The finished roll should be about 4 by 8 inches.

Transfer the roll to the prepared loaf pan. Allow it to rise for another 35-60 minutes (this will depend on how warm your home is), until the dough has risen about 1 1/2 inches above the rim of the loaf pan.

Bake the loaf for 20 minutes. Rotate it in the oven to ensure even baking, then bake for another 15-20 minutes, or until it's light golden brown throughout and the bottom sounds slightly hollow when tapped (the center of the loaf should be at least 190F if you have a probe thermometer).

Remove the loaf from the pan and transfer it to a cooling rack. Allow it to cool completely before slicing and enjoying!
Notes
You can substitute olive or vegetable oil for vegan butter.
If you have regular yeast, start by heating the water and non-dairy in your saucepan and adding the yeast. Allow it to sit for 5-10 minutes, or until frothy. Melt the butter in a separate pan and add it to the yeast mixture before proceeding with the recipe. 
I use SAF instant yeast.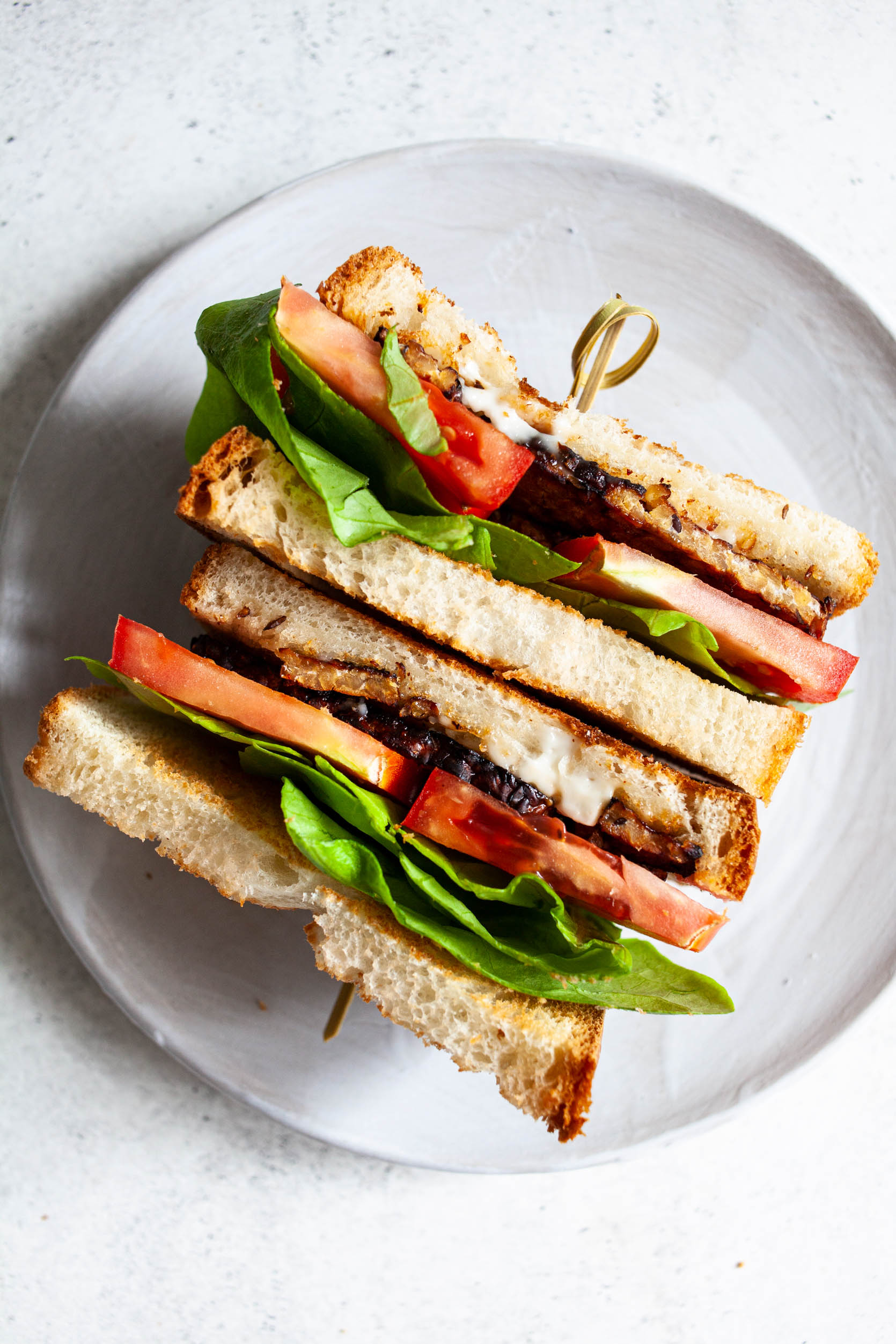 I wrote so much about the comforts of bread baking in 2017, when I first started to explore it, that there's not much else for me to say. But I will say that, when life is at its most overwhelming, uncertain, and unpredictable, bread baking is the kitchen act that gives me the most solace, the greatest sense of knowing how to take care of myself.
I hope that this fluffy, fragrant bread—and any delicious sandwich you create with it—will do the same for you. Happy Friday, friends.
xo
The post Classic Vegan White Sandwich Bread appeared first on The Full Helping.