From sage to spruce and forest to chartreuse, the design world has been keen on green in 2022. Trend experts at Etsy and Pinterest note that the color is one of the most searched hues this year, pointing to the soothing, harmonizing effect it brings to interior spaces. Green also helps bring the outdoors in (remember biophilic design?), adding a natural look and feel to your home that's comforting and balanced. And after 2+ years in a global pandemic – calm, balance, and nature are all things we could use a lot more of. Another little-known fact about green, it's deceptively easy to pair with other colors. So before you freak out thinking you need to coat your walls in green paint (though we won't stop you if you're inclined), try working greens into your life in small doses with these modern finds. For more green goods, visit the Design Milk Shop!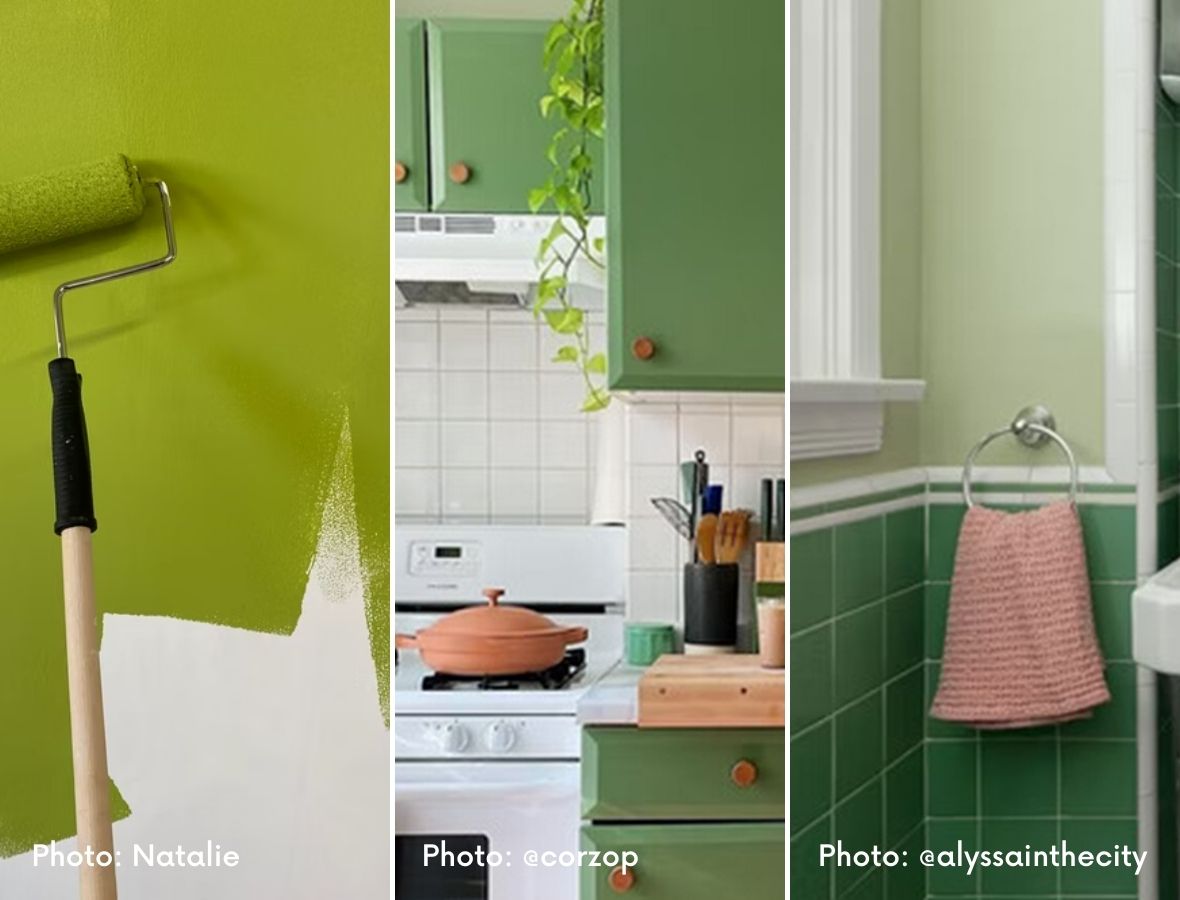 Photos by: Natalie, @corzop, and @alyssainthecity courtesy of Backdrop Home
If you do want to go all in and take green to your walls, check out our favorite green shades from Backdrop Home. From left: Pretty Ugly, Lawn Party, Natural Habitat.
Sacco 03 Vase by KINTO
The Sacco 03 Vase by KINTO is perfect for showcasing single-flowers and breathing life into your space. The modern, organic shape makes a sculptural statement on your coffee table, while the dynamic green tones are an elegant foray into green that'll complement any floral or greenery choice. A solid option for the historically green-averse who want to start slow!
$23
Shop Now >>
Bierfilzl Round Coaster Felt Multi 4 Pack by Graf Lantz
Are you a neutral fan at heart? Green can work for you too! The Bierfilzl Felt Coasters by Graf Lantz are an easy way to bring the color into your tablescape. We love the Gardener set for the balanced range of gray neutral and vibrant green coasters. Hand-cut and made with sustainably sourced merino wool felt, Graf Lantz coasters also bring textural interest to your coffee table that's as functional as it is fashionable (felt is one of the most absorbent fibers around!).
$24
Shop Now >>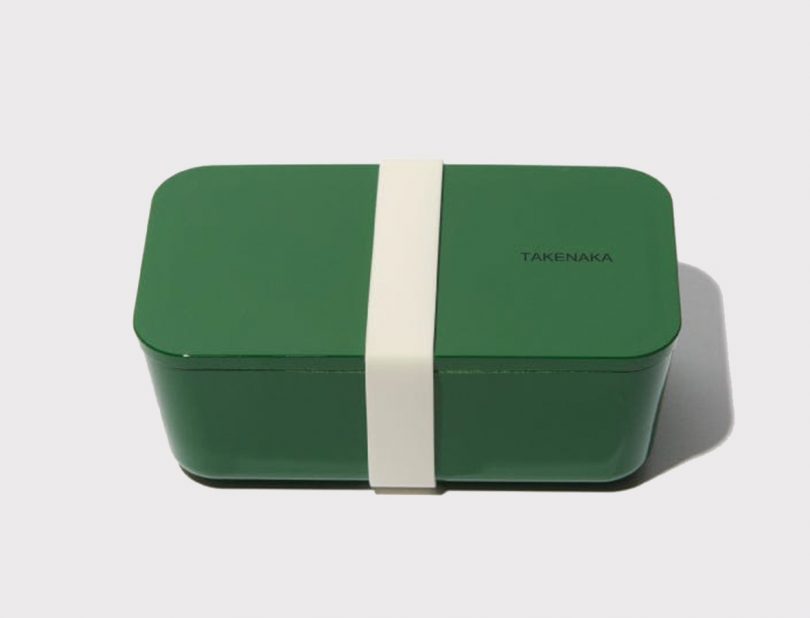 BENTO BOX FLAT by Takenaka Bento Boxes
We're big Takenaka Bento Box fans around here, so when the Japanese brand dropped a new model of their best-selling bento box in a spring-ready forest green shade, we were all over it. The flat bento box model features a more minimalist design compared to the subtle curves of their compact and expanded bento box styles – fit with a modern, sleek profile and the same airtight, secure packaging you know and love.
$36
Shop Now >>
Notabag in Green Sprinkle
We love the convenience of the Notabag's award-winning convertible design – wear it hands-free as a backpack or sling it over your shoulder as a tote with an easy pull of the straps. And when it's not in use, the eco-friendly bag easily folds down for easy storage. The cherry on top? All of the fun colors and patterns it comes in. We love the abstract polka-dot effect of the Green Sprinkle design, and the visual interest it adds to any outfit!
$28
Shop Now >>
Maya & Siona's Succulents Handmade Sidewalk Chalk by TWEE
Made by woman-owned maker studio TWEE, these adorable succulent shaped sidewalk chalks will spark joy for design lovers of all ages. Capturing a multitude of pastel green shades, the sculptural chalk in this set would look great on a shelf as a playful pop of color in a kid's playroom or bedroom – that is until they've taken them to the pavement outside!
$45
Shop Now >>
Clip Wall Hook by Bendo
For wall storage that's as fun as it is functional, meet the CLIP Wall Hook. This delightfully oversized, wall-mounted paper clip is big and sturdy enough to store coats, towels, hats – even your mail and magazines. We love the bright and playful energy this neon green paper clip brings to a space, and the fact that it's durably made of powder-coated steel means it'll stand the test of time.
$55
Shop Now >>
Linden Green Layered Fringe Pillow by Jillian Rene Décor
Cushion covers by Jillian Rene Decor are an easy way to bring a pop of color to your living space or bedroom. Not only does the Layered Fringe Pillow bring texture and brightness to a room, but the light green color is also reminiscent of fresh springtime greenery! All Jillian Rene Decor pillows are made to order here in the U.S., and well worth the wait.
$135
Shop Now >>
Prescott Pine Bath Rug by Quiet Town
Quiet Town's Prescott Pine Bath Rug is an abstract ode to the Arizona mountain range of the same name. The hand-woven kilim rug uses simple, organic shapes and deep forest green details – making it perfect for folks who want to dip their toe in the green pool, and experiment with the richness it brings to a space. Plus, its lightweight and fast-drying design is perfect for every day.
$78
Shop Now >>
Dumbo Bookend Pair in Large Cactus by Tortuga
Looking for green in the details? These bookends by Tortuga are a fun yet subtle way to bring a pop of soft mint green to your bookshelves. The large size will hold up even the bulkiest cookbooks, records, and art books, while the sleek solid steel construction and curved shape make them a beautiful modern accessory.
$83
Shop Now >>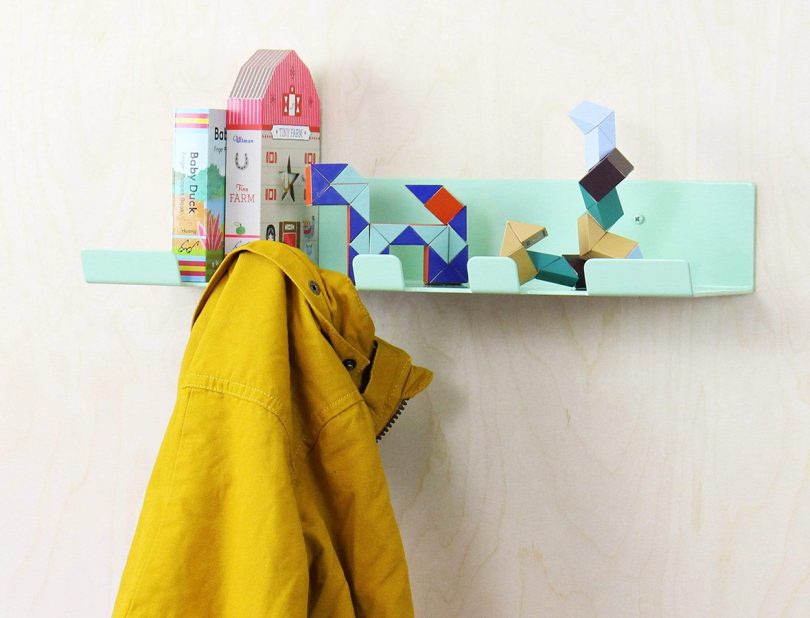 16″ Merkled Shook Shelf by Merkled Studio
Designed in Portland by founder and lead designer Kari Merkle, the Shook is a must for those who are looking to save space. The shelf and wall-hook hybrid makes organizing your odds and ends a breeze, functioning seamlessly in your kitchen for spices and hanging towels or utensils, at your entryway for coats, keys, and mail, or in your bathroom for toiletries and hand towels. Their best-selling mint green colorway adds a playful touch to your walls and is Kari Merkle's personal favorite shade!
$101
Shop Now >>
Reveal Green Watch by Projects Watches
Designed to tell time in the present, the Reveal Watch uses a unique disc design that conceals the past and future, revealing only the current time. The outer disc shows the hour, the smaller disc reveals the minutes in increments of 5, and a tiny dot indicates the seconds – all in a sleek, deep green profile perfect for watch lovers who appreciate an innovative timepiece.
$159
Shop Now >>
Green Mon Oncle BBQ by RS Barcelona
Work green into your next backyard barbecue with the Green Mon Oncle BBQ. The portable tabletop barbecue is a modern reinterpretation of the classic barbecue style, designed to be folded close into a briefcase with a contemporary and vintage feel. More than just good looks, the Mon Oncle BBQ's perforated design gives it more powerful airflow to allow for more efficient grilling without overheating. We love how easy it is to clean and dismantle too!
$418
Shop Now >>
Shopping any of these green finds? Share your haul and tag us @designmilk to be featured on our Instagram!