By beckysue from Baking the Goods.
This Raspberry Lemon Curd Braid is impressive, right? Don't let the ornate interlocking weave fool you, this braid is a whole lot easier to make than you'd think! I promise.
I can feel your skepticism from here. You should know, I had never made a braided bread like this in my life until a few weeks ago. On my first try, the braid came out picture perfect and every iteration since has been a true beauty. I have every confidence in the world that you can recreate this Raspberry Lemon Curd Braid in your own kitchen, with this simple, step-by-step recipe – made in partnership with my friends at Bake From Scratch Magazine and Red Star Yeast.
Key reasons you'll be successful making this Raspberry Lemon Curd Braid
Platinum Yeast from Red Star – A quick acting yeast that doesn't require blooming first. Just mix it in with dry ingredients and go! It activates the dough quickly and evenly so your braid rises rapidly and puffs perfectly. 
Don't sweat the technique – While the braid looks like it was made by a highly skilled pastry chef, it truly is simple to make with an easy technique that comes together in a jiff! You aren't even actually braiding here, just crossing pastry strips over each other and pressing to seal. Simple, yet impactful.
A solid base – The dough for this braid bread is simple, solid and easy to work with, especially with the help of a stand mixer and a dough hook attachment.
Curd is the word – The concentrated tartness of the Raspberry Lemon Curd is an elegant compliment to the slightly sweet and airy, yeasted braided bread. The flavors and textures are delightfully balanced.
Tried & true – I tested this recipe at least 8 times, making small tweaks along the way. My goal was to make it as approachable and enjoyable as possible for you!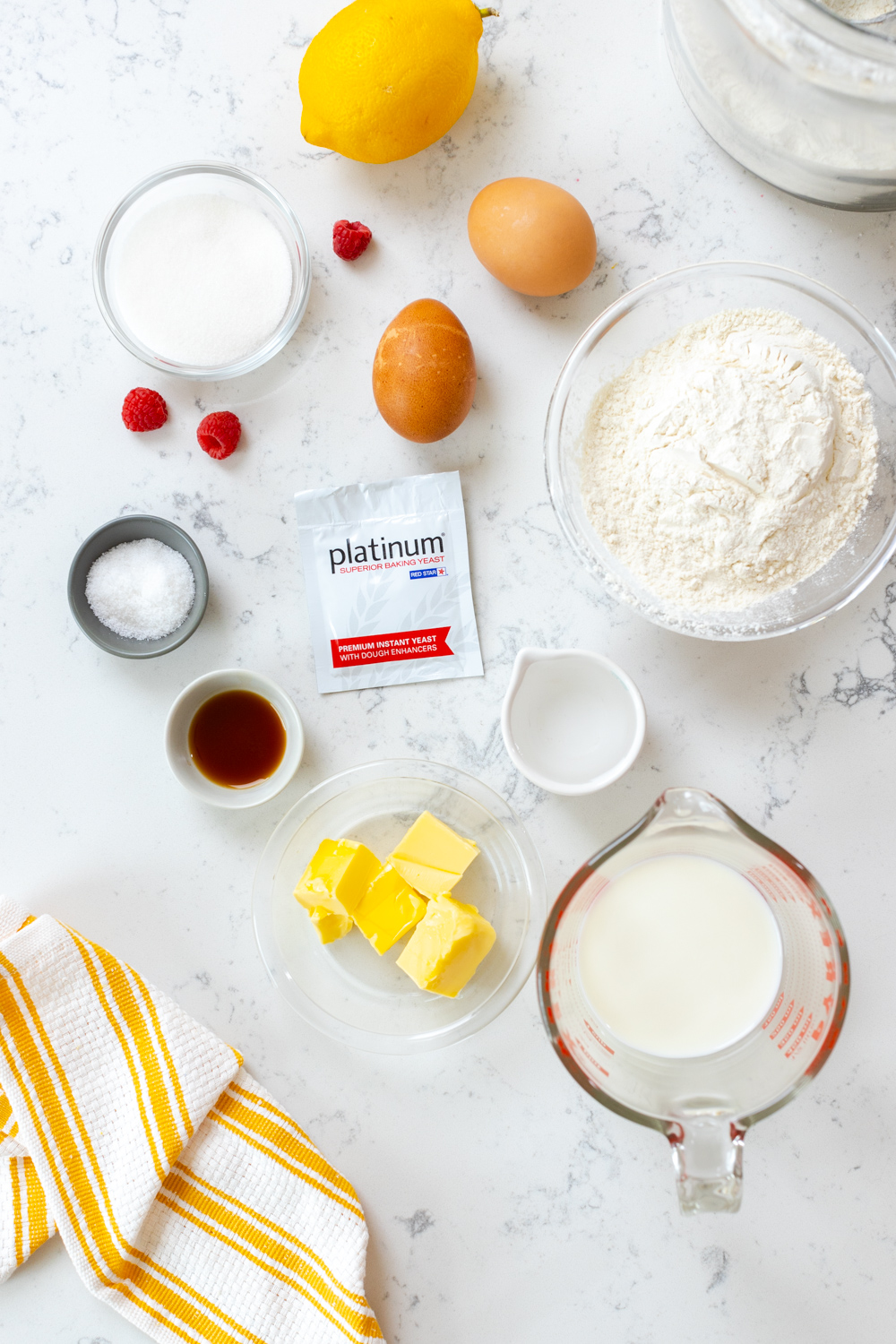 This Raspberry Lemon Curd Braid bakes up into a tender, pillowy bread that browns beautifully in the oven. The golden braid surrounds the rich and creamy curd in a tight, interlocking hug that's as beautiful as it is functional. As the bread bakes, the braid puffs up, keeping the curd from leaking out. It turns into a puffy, sturdy cloud loaf with a warm golden finish.
There are 3 elements to this Raspberry Lemon Curd Braid
Dough – Thanks to the quick acting Platinum Yeast from Red Star, this pillowy dough mixes together quick and smooth. It's easy to work with. Not too sticky and not too tough, so the shaping process is a breeze.
Raspberry Lemon Curd – Curds take a bit of babysitting and can be quite a mess to make. But go in with confidence and a kitchen towel and you'll have a colorful curd that is full of tart and tangy flavor. It's worth the mess.
Glaze – This one is as easy as can be. Just a quick whisk of powdered sugar and milk for a frosty finishing glaze.
Sure, you can buy pre-made curds and I wholeheartedly support that decision if that's what works best for you. Homemade curds are well worth the effort if you have the time, though. In my opinion, raspberry and lemon belong together. See my Raspberry Lemon Scones for further proof. So, this combo was a no-brainer when developing this recipe.
This Raspberry Lemon Curd only uses 6 ingredients: raspberries, lemon, egg yolks, sugar, butter, and salt. The pectins in the fruit combined with the eggs yolks and a slow simmer in a double boiler transform the mixture into a thick, creamy curd. Homemade curds are an extra special experience. They have a rich, buttery mouthfeel and are full of deeply concentrated flavor. Make a double batch and keep some extra around for slathering on toast or enhancing ice cream!
The braid comes together quick and easy!
Start at the top of the dough by folding the top tab down over the filling in the center column.
Then, lift the topmost strip on the left side, stretch and fold it over the filling, ending just below the top strip in the right column. Repeat with the top strip in the right column. Continue this pattern, alternating left and right, until you have the two bottom strips remaining.
Fold the bottom tab up into the center column. Then fold the last two strips over the tab. Then tuck and pinch the last 2 strips to seal the bottom. Simple, fun and oh so stunning!
The shaping process may seem intimidating, so let's visually break it down and you'll see just how simple it is.
Once you've shaped the braid, it just needs a little time to rise before baking. After baking, allow the Raspberry Lemon Curd Braid some time to cool off before drizzling with glaze. I like to serve it while still just a little bit warm with a strong cup of coffee, but it's great anytime.
For glaze alternatives, try sparkling or pearl sugar. I went with the drizzly glaze because I felt that it was the most accessible finish. Many of us already have powdered sugar in our homes and the dough requires milk anyway. Plus, I crowdsourced the finishing options and the glaze was the overwhelming winner. Gotta give the people what they want!
I hope you enjoy this Raspberry Lemon Curd Braid recipe as much as I enjoyed developing it. It's the perfect low-risk recipe if you want to try baking something new and different. While it looks incredibly impressive, it's a fairly easy recipe that relies on quality ingredients and simple techniques to elevate the wow factor.
This Raspberry Lemon Curd Braid is sweet breakfast pastry or a bright afternoon pick-me-up.
A great big thank you to my pals and partners from Bake from Scratch and Red Star Yeast for supporting me as I developed and refined this Raspberry Lemon Curd Braid recipe. It's already become a highly requested classic in my household and my neighborhood.  
Follow Bake From Scratch on Instagram or subscribe to their beautiful magazine dedicated to all things baking at bakefromscratch.com. Learn more about Red Star Yeast and their full line of products at redstaryeast.com or follow them on Instagram for recipe inspiration.
You can also find this full recipe along with many more Red Star powered recipes and helpful videos in the Bake From Scratch Bread Box!

Thank you for supporting me and the brands that I love!

Print
Raspberry Lemon Curd Braid
Keyword
Raspberry Lemon Curd Braid
Author
Becky Sue of Baking The Goods
Ingredients
Raspberry Lemon Curd Braid
2¾ to 3

cups

(344 to 375 grams) all-purpose flour, divided

¼

cup

(50 grams) granulated sugar

2½

teaspoons

(7.5 grams) kosher salt

1

0.25-ounce package

(7 grams) instant yeast

*We used Platinum Yeast from Red Star

¼

cup

57 grams) unsalted butter

½

cup

(120 grams) whole milk

¼

cup

(60 grams) water

1

teaspoon

(4 grams) vanilla extract

1

large

(100 grams) eggs, room temperature and divided

Raspberry Lemon Curd (recipe follows)

Glaze (recipe follows)
Makes about ¾ cup
1 ½

cups

(185 grams) fresh or frozen & thawed raspberries

1

tablespoon

(6 grams) lemon zest

2

tablespoons

(30 grams) fresh lemon juice

6

tablespoons

(75 grams) granulated sugar – divided

3

large

(56 grams) egg yolks, room temperature

¼

cup

(57 grams) unsalted butter, cubed and softened

½

teaspoon

(1 ½ grams) kosher salt
Makes ½ cup
1

cup

(120 grams) confectioners' sugar

1- 1 ½

tablespoons

(15 to 23 grams) whole milk
Instructions
Raspberry Lemon Curd Braid
In the bowl of a stand mixer, combine 1½ cups (188 grams) flour, granulated sugar, salt, and yeast.

In a medium saucepan, over medium heat, melt the butter. Add the milk, ¼ cup (60 grams) water, and vanilla and heat until an instant-read thermometer registers 120°F (49°C) to 130°F (54°C). Add hot milk mixture to flour mixture; using the paddle attachment, beat at low speed until combined. Beat in 1 egg (50 grams). With mixer on low speed, gradually add 1¼ cups (156 grams) flour, beating just until combined and stopping to scrape sides of bowl.

Switch to the dough hook attachment. Beat at low speed until a soft, somewhat sticky dough forms, 7 to 8 minutes, stopping to scrape sides of bowl and dough hook; add up to remaining ¼ cup (31 grams), 1 tablespoon (8 grams), at a time if dough is too sticky. (Dough will be elastic and pull away from sides of bowl but stick to bottom of bowl.) Turn out dough onto a lightly floured surface, and shape into a smooth round.

Lightly oil a large bowl. Place dough in bowl, turning to grease top. Cover and let rise in a warm, draft-free place (75°F/24°C) until almost doubled in size, 30 to 45 minutes.

Punch down dough, and let stand for 5 minutes. Turn out onto a lightly floured sheet of parchment paper. Roll into a 16×12-inch oval. Using a small knife or bench scraper, score (or mark) a 13×4½-inch rectangle in center of dough, leaving a 1½-inch border on short sides and a 3¾-inch border on long sides. Spread Raspberry Lemon Curd in rectangle.

Cut 1-inch-wide strips along each side of filling. At top and bottom, trim ends to width of filling. Discard scraps. Starting at the top, fold the top tab over filling. Beginning on left side, stretch and then fold top strip over filling, ending just below opposite top strip. Repeat with top strip on right side. Continue pattern, alternating left and right, until 2 strips remain. Tuck the bottom tab in and fold the last two strips over the bottom edge, then tuck and pinch last 2 strips to seal the bottom edge. (If dough is not sticking to itself, dab with a little water to help it seal.)

Transfer dough, on parchment, to a baking sheet. Cover and let rise in a warm, draft-free place (75°F/24°C) until puffed, 15 to 25 minutes.

Preheat oven to 350°F (180°C).

In a small bowl, whisk remaining 1 egg (50 grams). Brush top and sides of dough with egg wash.

Bake until golden brown and an instant-read thermometer inserted in bread registers 190°F (88°C), 20 to 25 minutes, rotating pan halfway through baking.

Allow to cool for 15-20 minutes, then drizzle with glaze. Serve warm or at room temperature.
Raspberry Lemon Curd
In a small saucepan, combine the raspberries, lemon juice and lemon zest with 3 tablespoons sugar over medium heat. Simmer over medium heat until the berries start to break down and thicken, about 8-10 mins, stirring periodically. Push through a mesh sieve into a bowl, discarding seeds and solids. Set aside. You should have about ⅓ – ½ cup of fruit juice.

Combine remaining 3 tablespoons of sugar and egg yolks in the top of a double boiler or heat proof bowl over a pot with about an inch of lightly simmering water and whisk continuously until the sugar dissolves.

Slowly whisk in the ⅓ cup of the raspberry juice. Keep whisking continuously and cook for about 3-5 minutes.

Add butter, 1 to 2 cubes at a time, stirring until melted after each addition. Cook over a saucepan of simmering water, stirring constantly, until thickened and can coat the back of a spoon and an instant-read thermometer registers 170°F (77°C) to 180°F (82°C), 8 to 10 minutes.

Press curd through a fine mesh sieve into bowl, discarding solids. Cover with a piece of plastic wrap, pressing wrap directly onto the surface of the curd to prevent a skin from forming. Refrigerate until chilled and set, at least 2 hours.
Glaze
Sift confectioners' sugar into a medium bowl. Whisk together with milk until smooth and fluid. Use immediately.
The post Raspberry Lemon Curd Braid appeared first on Baking the Goods.