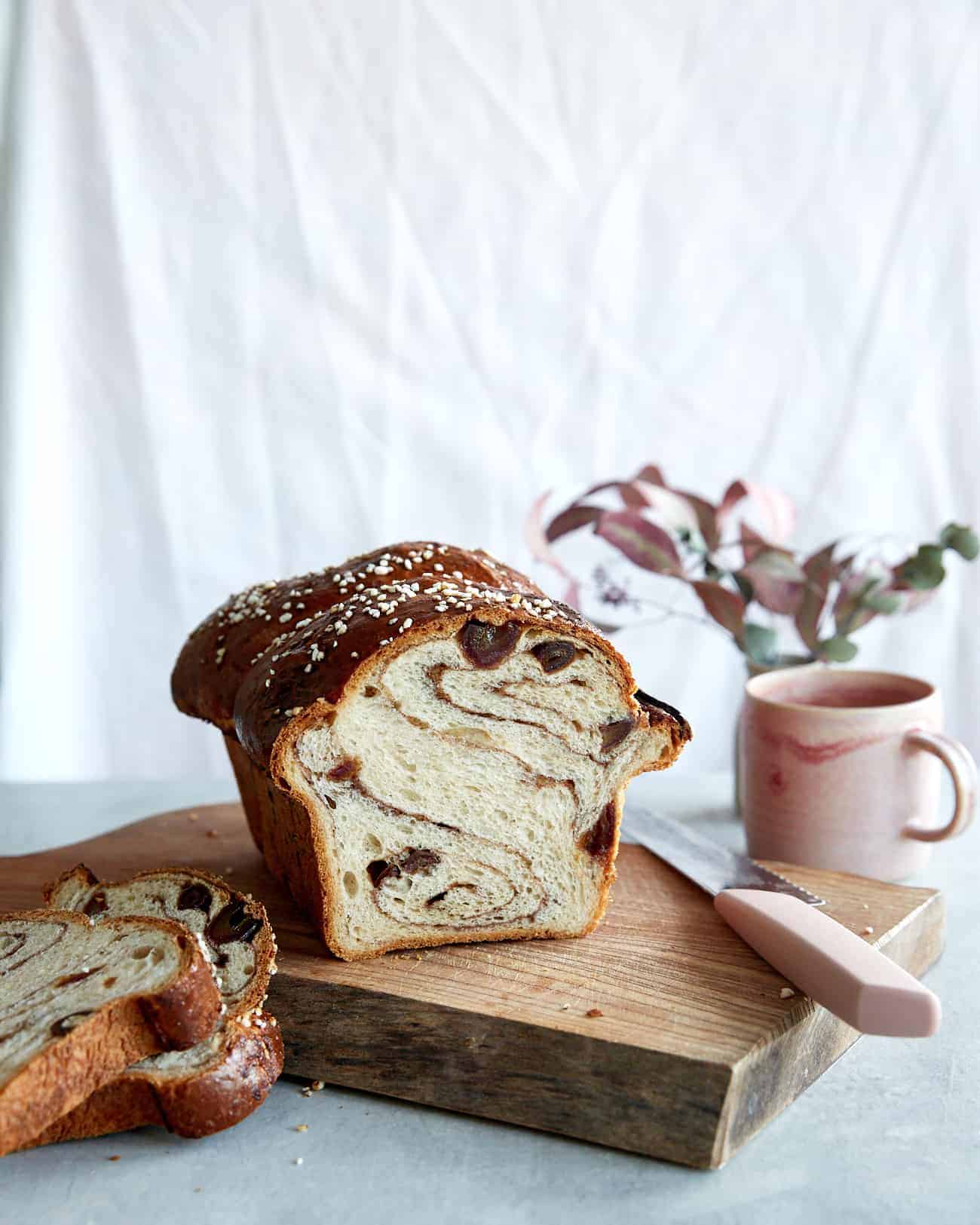 As a kid I was obsessed with cinnamon swirl bread. Its like a less intense version of a cinnamon bun and makes THE BEST french toast ever. Whats not to like?
This is a slightly modernised variation made with sourdough and dates instead of raisins. I made a double swirl by rolling the dough up into a log, cutting that in half and twisting the two halves together. Its almost like making a babka but a lot less messy!
Sourdough Cinnamon & Date Swirl Bread
Yield:
1 loaf (in a '2lb loaf tin')
Total Time:
7 hours
20 minutes
Ingredients
For the dough:
130g (1/2 cup plus 3 tablespoons) fed sourdough starter (100% hydration)
220g (1 cup minus 2 tablespoons) lukewarm water
1 medium UK (large US) egg
55g (1/4 cup) unsalted butter, melted and cooled
55g (1/4 cup) granulated sugar
430g (3 1/2 cups) plain white (all-purpose) flour
1 teaspoon fine table salt
1 teaspoon easy-bake (instant) dried yeast (optional, see notes)
For the swirl:
1 egg
pinch of salt
110g (1/2 cup) granulated sugar
2 tablespoons ground cinnamon
150g (a scant cup) pitted dates
pearl sugar, for sprinkling (optional)
Instructions
To make the dough:
In the bowl of a stand mixer fitted with the dough hook, combine the sourdough starter, lukewarm water, egg, cooled melted butter and sugar. Turn the mixer onto a low speed and stir until roughly mixed together.
Add the flour, salt and (if using) the easy-bake yeast (see notes below for if you are using it). Turn the mixer onto a medium-low speed until the dry ingredients have been mostly mixed in then increase the speed to high. Let it knead the dough for 6-8 minutes until it is smooth, elastic and is pulling way from the sides of the bowl.
Pour a little bit of vegetable oil over the dough and turn it to coat the dough and bowl with a thin layer of oil.
Cover with a clean tea towel and leave somewhere warm for around 4 hours - during this rising time you need to turn the dough. This is done by grabbing the 'north' side of the dough, pulling it up and folding it down towards the opposite side of the dough. Then repeating this in the same manner with the 'east', 'south' and 'west' sides of the dough. This is one set of turns. You need to do 4 sets of turns throughout the rising time, so once per hour is about right.
Once you've completed your last turn of the dough, let it rest somewhere warm again so it becomes puffy - about 30-45 minutes.
Shape and fill the dough:
Lightly grease a a 2lb (21.5 x 11 cm / 8.5 x 4.3-inch) loaf tin. Set aside.
Tip the risen dough out onto a clean work surface, lightly dusted with flour. Pat it down to remove the air and dust with some more flour on top. Roll the dough out into a 30 x 45 cm (12 x 18- inch) rectangle.
Crack the egg into a small bowl and add a pinch of salt. Beat together with a fork and set aside.
Combine the sugar and ground cinnamon in a small bowl and set aside. Roughly chop the pitted dates and set aside.
Use a pastry brush to brush the entire surface of the dough with the beaten egg (you won't use all of it - chill the remainder for brushing the loaf later). Sprinkle all over with the cinnamon sugar and then scatter over the chopped dates.
Starting at a short edge, roll the dough up into a tight log. Cut the log in half so you now have two shorter logs. Line them both up and then twist them together. Trim the ends off of the twist to neaten and so that it will fit into your loaf tin.
Place the dough twist into your loaf tin and cover (I use a small bin bag which I trap air into so that it's puffed up like a balloon and then seal the loaf pan inside so the bag doesn't touch the dough). Leave somewhere warm to rise until almost doubled in volume, with the top of the dough poking up about 4cm (1.5 inches) from the tin - about 90 minutes.

Bake the dough:
Preheat your oven to 180C fan (350F / 200C).
Uncover the dough. Brush the surface with the beaten egg you were using before. Sprinkle with pearl sugar if you'd like and then bake for 45-55 minutes until well-browned with an internal temperature of around 94C (200F).
Let cool for 10 minutes before running a dull knife around the edge of the loaf and tipping out onto a wire rack - leave to cool completely before slicing.



Notes
Adapted from Sourdough Cinnamon Buns via King Arthur Flour
- If you want to make the dough rise faster (and have less of a sour tang) add the easy-bake (instant) yeast to the dough when instructed. I found it reduced the initial proofing time to around 2 1/2 hours and the second proof to around 45 minutes .
Have you made this recipe?
Id love to see how it went! Tag me on instagram@izyhossackand hashtag it#topwithcinnamonso I can have a look & reshare in my stories!
The post Sourdough Cinnamon & Date Swirl Bread appeared first on Izy Hossack - Top With Cinnamon.