---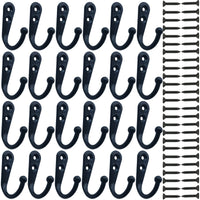 24 Pieces Coat Hooks Wall Mounted Robe Hook Single Coat Hanger No Scratch and 50 Pieces Screws Black
Topspeeder 24 Pieces Coat Hooks Wall Mounted Robe Hook Single Coat Hanger and 50 Pieces Screws Black

The edge is so smooth that will not damage your clothes or any item you hang on. They are in black color with vintage style, which can show your unique taste to your friends or neighbours.

Multiple applications:Â 
You can use these hooks in different places, such as bedrooms, bathrooms, entryway, closets ,kitchen and garage. to hang various items, such as your favorite statement necklaces, coats, belts, handbags, jewelry pieces, baskets, cooking ware, keys, dresses, clothes, towels and hats. 

Easy to install:Â 
Each hook has 2 holes, can be reinforced with two screws, the hooks and the screws match each other well, recommending mounting to solid wood or wooden studs. 
Specifications:Â 
Color: black 
Hook dimensions: 44 x 30 mm/ 1.73 x 1.18 inches  Screw length: 15 mm 
Material: zinc alloy and iron 
Quantity: 24 pieces of hooks and 50 pieces of screws 

Package includes:Â 
24 x Single robe hooks 
50 x Screws
Product Features
Material: coat hooks made of zinc alloy and the screw is made of iron, hard and durable material, not easy to break and can resist rust and erosion.
Size:wall mounted hooks is 44 x 30 mm/ 1.73 x 1.18 inches, screws are 15 mm in length and 5 mm in head diameter.
Wide application: you can use these hooks in different places, such as bedrooms, bathrooms, closets, kitchen and garage, to hang various items, such as your favorite statement necklaces, coats, belts, handbags, jewelry pieces, baskets, cooking ware, keys and more.
Package including: 24 pieces of wall mounted hooks and 50 pieces of screws, enough for you to use.