---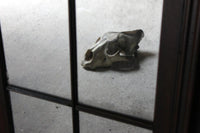 Origin: English
Period: Mid Victorian
Provenance: Unknown
Date: c.1855-65
Width: 32 inches
Depth: 15.5 inches
Height: 88.5 inches (all at extremities)

The nineteenth century Gothic oak hall cupboard on a plinth base with a ripple moulded arched mirrored door of eleven glazed panels, the arch having applied carved decoration, and further carved niche sides, the brass ring handle to the door opening to reveal two adjustable hanging rails and a series of coat hooks, survives from the early to middle part of Victorian period England.

The cupboard is presented in good overall order. Two of the rectangular plates are possibly later replacements whilst the other nine are certainly original and have sparkling and foxing to the plates, all nicely greyed. Two of the glazing bars are later replacements. This small issue aside she is in a totally original state and the oak has a very good colour and patination. The handle, hooks and rails, and all of the carved decoration is seemingly original.

Although the lancet or arched shape of this cupboard is synonymous with gothic design, one often doesn't see an entire door panel being mirrored and the superiority of the piece is very evident right through from the build quality to the applied carvings. Hall cupboards of this type are usually also doubles so the rather slim proportions of this example make it rather more versatile and elegant. We can't find another even similar to this example having been sold which may suggest it was privately commissioned.

"A man who remains any length of time in a modern Gothic room, and escapes without being wounded by some minutiae, may consider himself extremely fortunate";  Augustus W. N. Pugin.

This wounds, so to speak, and does it well. A.W.N.P. would have approved.