---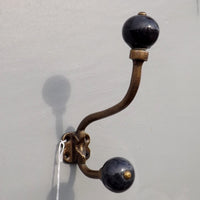 These funky coat hooks, wall mounted and seamlessly functional, are the answer to all your interior decorating dreams! They're bright, colourful, and perfect for anyone who wants to embrace the Boho style that's so in these days. Alternatively, you could use these funky wall mounted coat hooks to add a splash of colour to a more minimalist décor, making them a real statement piece for your home or office area. If you look at a room in your house and think that something's missing, chances are it could be these hooks!
Here at Love Hooks, we understand the importance of providing exactly what our customers are looking for, and that starts with basic but nonetheless essential information! We've listed the exact measurements and weights below.
Dimensions
Width: 48.5cm

Height: 10cm

Depth: 5cm

Actual weight: 556g
The patterns may be bold and eye catching, but the real beauty of these funky wall mounted coat hooks comes from the complexity of the intricate patterns. You could just have these hooks on your wall as a piece of art, and nobody would bat an eye! The immense combination of colours makes these hooks particularly chic and original, giving off a vibrant sense of warmth and variety. However, they're equally as functional as they are aesthetically pleasing. The five burnished brass hooks maximise this product's storage capabilities, allowing you to have immediate access to everything you could ever need for your day to begin.

Versatility makes up a big part of the appeal of these funky coat hooks. Wall mounted designs also help to enhance practicality, in this case, ensuring that they're the right choice for you. Small though the hooks are, they're sturdy, usable and can hold your coat and keys with equal reliability. They would be suitable in your hall, in your bedroom or even in your office. Whether they are used to help keep things organised, or as something to bring life and personality to your surroundings, they can add a little something to any room.
, Aqua, Olive Green and graphite versions also available.