---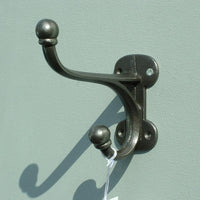 Transport your hallway back in time with this beautifully crafted Victorian style coat hook - one of the finest available on the antique coat hooks UK market. At Love Hooks, we understand that your hallway goes through a lot of wear and tear, especially if you're part of a busy family! That's why we sell reproduction antique coat hooks which are crafted from incredibly sturdy materials. This particular design, moulded from an original Victorian hook, is made of the finest quality, hard-wearing, heavy-duty iron being the largest and most robust in our collection. We promise that this Victorian style hook will support the weight of all the assorted hats, coats and scarves that you can throw at it! Whilst we provide screws please ensure that they are suitable for the surface you are mounting them on.
Specifications
Width: 5cm

Height: 12cm

Depth: 13cm

Approximate weight: 276g
When it comes to antique coat hooks, we know you want something that looks and feels authentic. That's why our design is simple and straightforward, whilst still adding an elegant feel to your hallway. This design is a perfect addition to period properties, especially if you want to keep the traditional décor. It can work beautifully in modern properties too; an antique coat hook can add that beautiful, vintage look to your home. The double-pronged style of the hook means it can neatly store even more coats and jackets, or just be used as a hat and coat hook if you need to.
This design is one our favourites from our antique coat hooks range because it is versatile, sturdy and stylish. Not only does it look great, it's also a very practical solution to storage issues in a busy household. You can use it for hanging up your coats, but also anything else you can think of - the possibilities for storage are endless! If you've been searching for a fine quality period-themed coat hook then look no further - this Victorian style hall coat hook is the perfect purchase for you.