---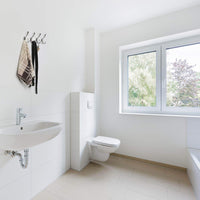 Sale
Brand: BAOEF
Color: Silver
Features:
★Heavy Duty: Constructed of Solid aluminum alloy,heavy duty ,very sturdy and well-constructed for longer daily use. Maybe you feel flimsy when you receive,but they are sturdy enough to hang items when they are installed.
★Multipurpose: This triple hook features an attractive look. Ideal coat and hat hook to put in your laundry for the kids and useful garment storage tool for the foyer; bathroom; kitchen; bedroom; closet; foyer,kitchen, bedroom, living room, office, storage room, garage, mud room, kids bedroom.
★Modern Appearance: These bath accessories will help you develop a contemporary style by adding simple and stylish elements. The flared triple robe hooks also will contribute to bathroom organization in a refreshing finish and save a lot space for you.
★Easy Installation: The coat hook are easy for wall mounted or wood door mounted. Mounting hardware included with screw, plastic expansion anchor and hex key.
★Dimensions:13.8''*1.5''*2''(L*W*H).Please refer to the product images.
Publisher: BAOEF
Details: Brand:BAOEF
Name:BAOEF Coat Hat Hook Rack
Material: Constructed from premium aluminum alloy. Chrome plating finish.
Dimensions: Please refer to the product images above.
Package Includes:
2 *BAOEF coat hooks, screws, plastic expansion anchor, washer and cap

APPLICATION :
BAOEF metal hook is utility as clothes rail hook, hat hook, hand towel hook, dish towel hook, bath towel holder, scarf hanger,
or as a wall hook to hold your purse, keys, bags, belts. It is a great choice as a modern decor adding to your
bathroom, entryway, kitchen, bedroom, closet, office or hotel.

How to install:
◆Line up the base on the wall and mark the positions of the two holes on the wall
◆Drill holes in the position you've marked, then tap the plastic dowels into the wall
◆Line up the base and put the bolt washers through the screw, turn the screws tight
( Please leave 1mm gap between the screw head and base for the installation of decorative cap)
◆Install the screw caps

THE COAT HOOK HAS BEEN USEED EVERYWHERE IN YOUR LIFE - HOME, GARAGE, OFFICE, AND SCHOOL.
* You can use them in children room to hang all sorts of kids' extras, jackets, sweaters, backpacks.
*Or you can line them up in a row for towels hanging in bathroom.
*Or you can put them on a wall in entryway where you could hang coats, keys and purse when come home.
*Or you can attach some to a wood door in bedroom or office cubicle as big space saver.
*Or you can use them in kitchen to hold pots, towels, mug without worrying about beautifully
complement your modern stainless steel appliances.

UPC: 799445052124
EAN: 799445052124
Package Dimensions: 17.0 x 6.0 x 4.0 inches