---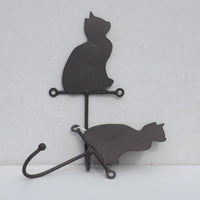 This is a Stylish and simple coat hook at a great price. A familiar silhouette shape of a beautiful black cat with proud chest looking up (anticipating food?)

Mounted on a cross bar requiring two screws to fix to the wall the metal hook with rounded ball end is large for taking plenty of things such as scarves, bags, dog leads and so on.
Width: 10.5cm
Height: 22cm
Depth: 6.3cm
Approximate Weight: 51g
As the weight is low and they are inexpensive these make excellent gifts to send in the post!! As do so many of these hooks.
We have other Cats and available and of course masses of lovely hooks and racks made of