---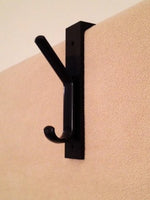 This is an adjustable, panel hung coat hook for your workstation cubicles
In stock, and are ready for immediate delivery- Package of 6*
Will accommodate cubicle panels from 2" thickness to 3-3/8" thickness
Features two angled hooks for easy hanging of jackets, hangers, bags, umbrellas, etc.
Easy to assemble. The back post can be turned to utilize the longer part for thicker panels
This is the most versatile cubicle wall coat hook replacement we offer! Comes in package of 6. Very strong and sturdy. Made of a durable hard black plastic.
ORP Amazon ASIN B009WWWTEW Home & Kitchen Storage & Organization