---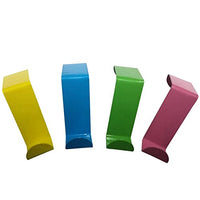 Coralpearl Metal Utility Rack Hanger Hooks in 100% fresh NEW high quality Stainless Steel for Over The Door Cubical Wall Panel Partition use;
Reversible Z shape Storage Organizer Set in Size: 2.5" LX1.6" W+0.7" W with Yellow, Green, Pink & Blue color combinations;
MAX weights: 1 KG to 3 KG/35 OZ to 105 OZ; Come with Memo Holder Cartoon designs: Love letter, Kitty,Panda & Bug;
Convenient to store small items at the same time for Coat Clothes,Towel,Wreath,Key,Hat,Garage,Kitchen,Bathroom,Kids Room,Office,never affect door closed;
Note: Pls measure the door top margin distance: ONLY 2MM/0.08" to work properly, FITS max 1.5 inch Partions/Doors.
Coralpearl Over The Door Cubical Wall Panel Utility Rack Hanger Hook Metal Partition Storage Organizer Memo Holder Set for Coat Clothes,Towel,Wreath,Key,Garage,Kitchen,Bathroom,Kids Room:

MAX weights: 1 KG to 3 KG, 35 OZ to 105 OZ;
With memo holder Designs: Love letter, Kitty,Panda & Bug combinations;
Material: Stainless steel with art color paints+ wooden magnet memo Qty.: 4 pcs.set;
- Four colors assorted, convenient to organize small stuffs, such as bags, hats, clothes, towels etc for daily home use.
- Love letters, Cartoon figure of Panda,Kitty & Bug are actually refrigerator magnet memo holder, also for cute home decorations.
- Free nails use, just put at the door back or drawers of bedroom, kitchen.
- All hangers without sharp edges never hurt naughty kids.
- Heavy max weights with durable thick metal steel for double side funtions.

TIPS: At the hanger inside bent edge without painting is not defective, which is prohibitted by the production painting process.

NOTE: With 4cm/1.6" wide of big side only suitable for the door thickness below. Small side at 1.8cm/ 0.7" thickness suitable for the same below.
Coralpearl Amazon ASIN B076NTG9S4 Home & Kitchen Storage & Organization , Home Storage Hooks , Coat Hooks