---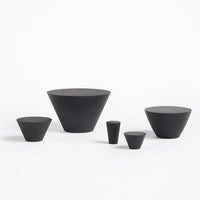 Description
Elevate any space with this series of impeccably crafted knobs, handmade by artisans in Brussels. These can also be used as towel or coat hooks!
Since 1905, Maison Vervloet has been creating luxurious, high-end hardware. One of Europe's finest aterliers of decorative hardware; Maison Vervloet creates objects of unparalleled beauty with quality craftsmanship.
8-10 week lead time. Please  for more information.
Made in Belgium.
Specifications
Ø 30 mm (0.8") X D 21 mm (0.82")
Material(s)
Available in black anodized aluminium and copper finish. Custom finishes available, please  for more information.
Product Downloads