---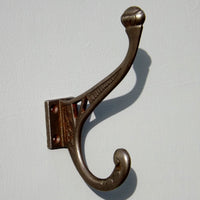 Looking to add some tasteful vintage accessories to your home? We've got a beautiful collection of old-fashioned coat hooks, including this beautiful Edwardian-style cast iron hook. A stylish addition to any hallway, living room or bedroom, our hooks are cast from Original Period pieces and quality-made from the best materials, with the iron having a wax finish. This means they look authentic, which is a necessity for any period-style home.
Dimensions
Width: 2.6cm

Height: 14cm

Depth: 9cm

Actual weight: 113g
The shank of the hook is decoratively cast and has two arms to maximise hanging space for plenty of coats, scarves or hats, so why not invite your friends over for a dinner party? The top arm is fastened with an image of an acorn head while the bottom arm features the end of a scroll, two classically Edwardian features. The traditional rich brown colour paired with the waxed iron finish ensures these old fashioned coat hooks add to the cosiness of your place, wherever you choose to put them. They work by giving your home a sense of vintage flair.
Fastening your new hook to the wall or door couldn't be an easier process, because the oblong back plate of the hook has four countersunk holes already cut for the screws. What's more, we'll provide you with the antique-looking wooden screws you need in order to maintain the authentic look, so you don't need to worry about finding screws that aren't going to look out of place. The screws are easy to attach but we recommend you check with your builder that they are suitable for your chosen surface. Treat your home today to one of our beautiful old fashioned coat hooks and you'll never need to look for vintage accessories again! You won't find a more elegant and sophisticated yet fun and quirky hook anywhere else.