---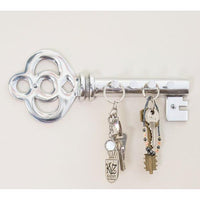 The Perfect Home Décor Key Holder
 The Decorative Key Holder helps you keep track of your most important items, keeps your home tidy, and adds good looks to your décor. It's not good just for keys – these hooks arelarge enough to hold coats, hats, gloves, and more.
The stylish, modern design looks good mounted anywhere, including home entry, hall ways, in closets, utility room, kitchen, office. The clean, attractive design and polished-metal finish look great in any home, and the vintage style fits almost any home décor.
Sturdy, Built to Last, Tested Design
The Decorative Key-Shaped Key Wall Holder is sculpted from high quality hand-cast aluminum, precision shaped and tested for quality – it's designed to provide years of service. Installation of this metal keyholder takes only minutes: 2 mounting screws and 2 wall anchors are included, so all you need is a screwdriver.
This key hanger for walls is also designed to reduce accidents and prevent scuffs and damage to your wall. It features a thin profile to reduce accidental bumps and snags in high traffic areas.
Gift Shopping for Someone?
Moms and grandmothers, new home owners, office colleagues, and anyone who wants their keys, hats, and coats easy to locate and accessible will love this stylish metal wall mount key holder. 
Decorative key hangers for wall, in stylish vintage key-shaped design that reduces clutter and helps you keep track of personal effects
This keyholder with metal hooks is perfect for keys, leashes, lanyards, small personal items, anything you need; use as coat hooks for jackets, hats, gloves, and more
Decorative metal hooks made from hand-cast aluminum in ultra-polished finish that is attractive and modern, suitable for mounting in entry, halls, closets, kitchen, office, utility room
Mounting hardware for key wall holder included: 2 x mounting screws, 2 x wall anchors, installation is simple
4" tall by 10" long, slim profile for non-intrusive key rack wall mount, lightweight and designed not to damage wall surfaces