---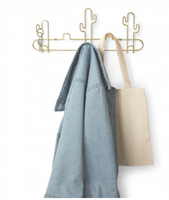 This metal wire wall hook takes on the shape of a desert horizon and doubles as wall decor. Perfect for adding character to your space. Complete with five coat hooks and three key hooks, this is a great hook for the entryway, bedroom, bathroom or child's room. The hooks are rounded to prevent damaging delicate clothing

Designer
Eugénie De Loynes

Material
Metal

Detail
Graphic hook for hanging accessories, scarves and keys in your entryway or clothing and towels in your bedroom or bathroom.
Complete with mounting hardware.
Holds up to 30 lbs (13.6 kg) in total. 5lb per garment hook.