---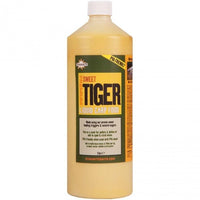 Dynamite Sweet Tiger Liquid Carp Food
Dynamite Baits' Sweet Tiger CSL (Corn Steeped Liquor) Liquid Carp Food takes the natural sweetness that is released during the steeping process for corn-based liquid bait additives, and uses it as a base for this dynamic, high-attraction liquid feed, which makes a great addition to PVA bags, as well as spod and stick mixes.
CSL is a known "activator", which prompts high fish activity, ensuring continuous action in your swim.
Water soluble, and high in amino acids, add 50ml of this bait liquid to your PVA bag for a great session boost that provides nutty attraction with added sweetness, flavour, and appeal.
Featuring 30% protein, this liquid can also be used to coat hookbaits for added appeal.
Sweet Tiger Liquid is a CSL based liquid
Designed for adding into spod/spomb mixes
Improves hookbaits or use on or in PVA bags
Based on the nutritional profile of the quality CSL
Proven nutty attractants and flavour added
High in Amino acids and natural food ingredients
30% protein in this fantastic water soluble all round liquid attractant
A bright yellow liquid which carp can home in on
Recommended 50ml per kg of base-mix
Supplied in a 1 Litre bottle