---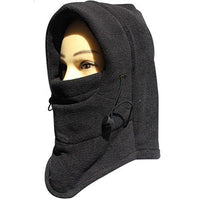 Brand: FUYI
Color: Black
Features:
Hat should pay attention to maintenance and custody. After the hat off, do not misplacing, should be hung on a coat rack or coat hook on the top do not ballast, in order to avoid aliasing distortion.
Hat a long time, inside and outside will be stained hat grease, dirt, to promptly wash off. Wash cap liner can be removed, and then stretched on, so as not to sweat on the damp dirt cap liner
Autumn and winter outdoor riding, cycling to work the necessary manpower. Autumn and winter outdoor equipment is essential.
Features: Face thickened, more warm wind; fleece fabric, soft and comfortable material has a certain flexibility, ensure pilling;
Uses: used to protect the face and neck, soft material, comfortable to wear, feel good, dust, the lower the velvet collar can be sealed to prevent cold wind to enter, the thermal effect is very good, for motorcycles, electric bicycles Knight, Wargame, skiing, hiking and other outdoor, extreme sports enthusiasts.
Details: Unisex Windbreak Warm Fleece Neck Hat Winter Ski Full Face Mask Cover Cap