---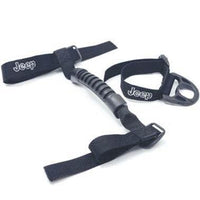 Make sure you're ready for anything, whether it's an off-road adventure or a formal suit-and-tie event, by installing Jeep Wrangler grab handles in your ride. This Mopar grab handle and coat hook combo can be used on soft-top and hard-top Jeep Wranglers, and they attach around your vehicle's sport bar. The non-slip handle features an embroidered Jeep logo, and you can order one or a pair based on your needs.
Grab handle and separate clothes Hook. Will fit 2007-2018 Jeep Wrangler. Attaches around sport bar. Handle has embroidered Jeep logo. 
Note: Listing is for one handle and clothes hook.
Item #: 82207660AC
*Please note that older model & select Mopar parts are special ordered from Mopar's National Warehouse, so please allow 3-4 business days for shipping.