---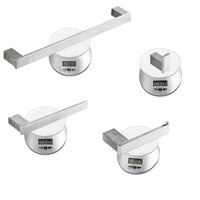 Sale
Brand: HomeElegance
Color: Brushed Stainless Steel Set
Features:
【Material】: Made of high strength 304 stainless steel, brushed nickel finished. They won't get rusty though being fixed in humid environments due to their high temperature resistance and corrosion resistance.
【Items】: Brushed bathroom hardware set includes: a single-bar towel shelf, a towel bar, a toilet paper holder and a coat hook. Also, 2 sets installation tools are included.
【Product identification】: The hardware are wall mounted. Please be aware that our mounting bracket is made of strong,corrosion and rusty resistance Copper alloy. Other sellers may not offer such high-quality components thought their product is in same shape as ours.
【Load-bearing】: Max load bearing for each item is 30kg(66lbs). Do not put stuffs heavier than 30kg on the items. These items are not designed for use as a grab bar. Do not mount in locations where product is likely to be used as a grab bar.
【Easy Installation】: 2 sets mounting accessories are offered. Very easy to install with the guidance included.
Publisher: HomeElegance
Details:
Items included:
A bathroom hardware set, including a single-bar towel shelf(23.6''*2.95''*1.18"), a towel bar(10.62"*2.95"*1.18"), a toilet paper holder(6.69"*2.95"*1.18") and a robe hook(2.36"*2.95*1.18"), 2 sets installation tools(Allen Wrench and expansion screws)
Item Package Weight:
3.65lb/Set
Material:
Food grade Premium SUS 304 Stainless Steel, coated with paint.No allergy or any other damage would be caused.
About SUS 304 Stainless Steel:
SUS 304 Stainless Steel is a Japan production standard. It is a high strength, strong heat resistance, strong corrosion resistance Austenitic stainless steel.Commonly used in food, chemicals, auto parts, medical materials and many other fields.
Load bearing:
Heavy duty bathroom accessory set, bears up to 30kg(66lbs) each item.
Applicable Occassions:
Bathroom, hotels,etc.for use of hanging towels, robes, clothes, toilet paper,etc.
Installation Manual:
1.Check the mounting hardware before your installation. Mounting bracket comes with products.
2. Put mounting bracket on wall in desired location.
3.Mark two points on the wall where you will drill the screws. Make sure that the holes are in your desired position.
4. Drill 2 holes on the marked places. If the wall is made of wood, you can directly install the mounting bracket to the wall.
5. Use your hammer to hit the anchor into the holes, and use screwdriver to fix the bracket on the wall with screws.
6.Match the product with mounting bracket and use the Allen wrench to fasten the screw.
Warranty,Return & Refund:
We offer a limited 2-ye
UPC: 725732016661
EAN: 725732016661
Package Dimensions: 25.0 x 5.0 x 2.0 inches