---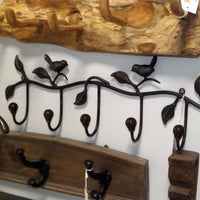 Are you looking for stylish and interesting coat hooks? Have you always fancied bringing the tranquil atmosphere of the natural world into your home? This lovely, decorative Cast Iron Rack is the answer! It boasts a beautiful and ornate design which depicts two garden birds perching on a leafy branch. The bar of the rack is gently waved which makes it far more distinctive than your average coat rack and gives the whole rack a delicate, fluid feel.
Dimensions
Width: 58cm

Height: 20cm

Depth: 8cm

Approximate weight: 1270g
The rack features five interesting coat hooks, each one with a brown ceramic tip. It is made of iron which has been treated so it appears black with hints of copper – this gives it a lovely antique feel. Since the hook is crafted from hard-wearing iron, it is incredibly strong and is guaranteed to stand the test of time.
Rather than getting something plain for your home, why not invest in interesting coat hooks instead? Not only is this a beautiful piece of décor, it is also highly practical for bigger families as it offers plenty of hanging space – it would be the ideal addition to your busy hallway.
Alternatively, if you are looking for a unique, fun and decorative way to display items in your bedroom, this coat rack is a great way to do so. Undoubtedly, this is a practical, easy and affordable solution to all of your storage problems – and, for a truly great price: you get five hooks in one!
The photographs pictured here have been taken in our showroom – clearer images will follow soon. The rack shown below is the and pictured above is one of our natural.

If you are interested in bird-themed décor, make sure you check out our, too!