---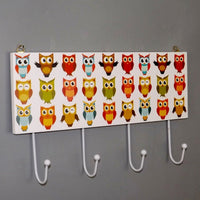 New Seasons Range of Cheerful Hooks and Racks for all over the home and office.
I appreciate that these Owls aren't really line dancing but when ever I look at this rack I think of Owls Line Dancing and it brings a smile to my face. Suffice it to say that here we have lots of rows of fun owls in bright cheerful colours. Each image plaque is 34.2cm x 12cm .

Fabricated in coated MDF to give a ceramic feel with white coated metal hooks with ball end.

Overall size
Width: 34.5cm
Height: 20cm
Depth: 4.5cm
Approximate Weight: 360g each

Look out for our Coat hooks also in this range at only £3.50 each available in threes and pairs

For the price this makes an ideal inexpensive 'any occasion' gift to send a chum in the post!! - or perhaps ask us to send it
direct for you and we shall include your greeting. - have you tried our wrapping service?