---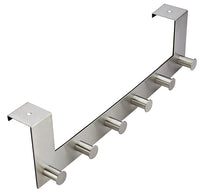 Sale
No Drill Towel Rack For Bathroom Storage Closet - Behind The Door Organizer Clothes Rack - Office Cubicle Hat Shoe Handbag Purse Hanger by Pro Chef Kitchen Tools
15.5 INCHES WIDE - Door hanger has six pegs that are perfect for a hanging many different kitchen utensils. Get enough pegs to hang many of your favorite and most handy kitchen items. Makes kitchen more organized and easy to work in by giving lots of hanging pegs. With multiple pegs, you will rest assured that your useful items can be hung, removing messes from your kitchen. Lots of pegs brings better versatility to the kitchen.

Fits nicely over a door frame, allowing for convenience and giving plenty of choices for placement. Kitchen storage or pantry door is wonderful for hanging this door hanger. Door hook rack has a large hanging arm at the top that will fit on a wide variety of doors. Great for use in bathroom door, kitchen door, or entryway door. Door hanger adds versatility and ends the clutter in your home.

Not just for the house! Door hanger makes a perfect addition to commercial kitchens, creating utility and making a working kitchen efficient. Hang spoons, ladles, aprons, and many other items found in a professional kitchen. Increase the ease and efficiency and the kitchen will be working at a great pace. Brings a strong, sturdy hold to your storage. Hook hanging rack is essential for a well-managed restaurant kitchen.

Hang virtually anything you can image. Stainless steel holds utensils and tools, but can also be used to hand heavy winter coats, sweatshirts, jackets, and more. Use this hook organizer inside your walk-in closet and get more storage and organization from a simple tool. Use as a coat hanger near the entry way or store all items in the outdoor shed. Versatile door hangers used for nearly all purposes!

Made from high-quality stainless steel, providing door hook rack long-lasting strength. It will hold a large jacket without bending or losing its shape. Places everything within reach yet has the quality materials needed to hold up for years of use. The stainless steel has a shiny finish that looks fantastic in any setting. You won't have to worry about door hangers loosing their function because of the strong stainless steel.
15.5 INCHES WIDE - REMOVE CLUTTER FROM YOUR HOME. Tired of the clutter in your home? Remove the problem by using the space behind your door. Simply hang your jackets, scarfs, umbrellas, bags or keys on the 6 hooks provided, safely out of sight. Get enough space to hang your items. Makes a great key holder hidden behind doors. The great thing about these stainless steel hooks is that you can hang them on just about any door all over the home or office. Universal fit compatible with most doors.

MULTIPURPOSE. You can hang almost anything. The hooks versatile design accommodates different types of items, may it be clothes, bags, keys or toys. Know where to find your car keys, scarf or bag even when in a hurry. Once you have these in hand, you'll come up with hundreds of ideas on how you can become even more organized and do more with the time that you have. Suitable for all homes with doors, these hooks are a match made in heaven.

DURABLE AND HIGH QUALITY STAINLESS STEEL. Strong enough to hold your bag or jacket without bending which also guarantees their long life. Don't waste precious time searching through a cluttered closet for your jeans or sweater. Immerse yourself into the Pro Chef Kitchen Tools process even more knowing that everything essential is within reach at all times. Made of durable stainless steel, these hooks let you hang items securely without screws or any sort of adhesives.

HIGH QUALITY DESIGN. Save time and money with these DIY over the door hooks. The hooks are ready for use and you don't need to pay for installation. Safe even for your most expensive bag. The hooks are round with smooth ends plus a high-quality finish that leaves your items with no tears or scratches. These hooks blend in well with the rest of your décor given their stainless finish. The best part of these hooks is that they will not damage your doors and are sleek and modern.