---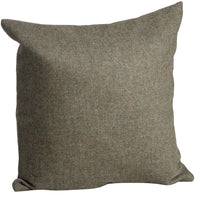 Delivery Time: 10 - 12 Weeks
The Yorkshire Collection is filled with items inspired by nature found in the county.
All of our Yorkshire Tweed Cushions are manufactured from a traditional family based in Otley, West Yorkshire who opened a weaving mill back in 1931. Pride is taken with every item produced to ensure the highest quality of fabric is woven. 
With five different choices there is something for every setting. The Jackdaw fabric takes inspiration from the its namesake bird with a fine navy blue sheen, an easy colour to blend into any interior scheme, the Grey Herringbone fabric adds sophistication and class to your home, the Barn Owl takes inspiration from the colouring of its namesake and the neutral tones fit seamlessly into any interior, whilst the Heath's neutral dusky brown shade creates a more classic country look.
Within are matching lamps and shades as well as fabulous coat hooks with Tweed covered backboards.
Product Information:
| | |
| --- | --- |
| Height: | 18cm |
| Width: | 40cm |
| Depth: | 40cm |
| Finish: | Dusky Brown |
| Material: | Tweed |