---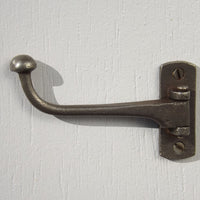 This cast Iron hook sets itself apart from the rest, not in quality, as it, along with the rest of our collection, is of excellent quality but in the fact that it is mounted on a pivot.  This means that when not in use the arm of the hook can fold back against the wall and not pose a hazard to eyes when walking past. So this is perfectly suited to narrow hallways. It offers strength and durability when in use and is aesthetically pleasing, harmonising with a period setting.
These are excellent, strong, quality hooks, perfect for the period property and for those who want the classic look with maximum durability. Ideal in Wardrobes, backs of doors or small areas where you need a small hook offering strength and reliability without poking your eye out when not in use!.  

Specifications

Width: 1.5cm up to 10.5cm
Height: 4 cm
Depth: minimal when flat against the wall
The plate is 2.2cm by 5.8cm and the full extension from the wall is 10cm
Actual weight: 67g
Easy to mount to the wall requiring two screws (aged wood screws provided)
.