---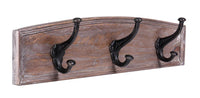 We have a wide selection of vintage coat hooks available here at Love Hooks but this pine panel coat rack is definitely one of our favourites. It is a large, quality-made statement piece which is perfect for the hallway in a period property. It's also a must-have for those who are on the lookout for vintage style coat hooks that don't cost the earth.
This robust and attractive piece comes at a very favourable price of just £35. We believe that this pine panel rack is reminiscent of vintage British style so if you're looking for vintage cook hooks in the UK, then this is definitely the rack for you.
Dimensions
Width: 60cm

Height: 15.3cm

Depth: 11.5cm

Weight: 1377g
The panel has been created with a large piece of sturdy pine tree that has then been crafted into an arched panel and finished with a framed border. Attached to the panel are three large, metal vintage coat hooks. The materials used to craft this panel are sturdy and hard-wearing, so this coat rack will be able to withstand all that you can throw at it! Some people might be put off from buying vintage style coat hooks if they think that they'll be difficult to fix into place. However, with its large hoop fixings on the back, this pine panel rack is incredibly easy to mount onto the wall. All it requires is two wall screws to complete the job.
Three of the images displayed here show the rack in our Tewkesbury Showroom – this is where we showcase our selection of vintage coat hooks, UK made products, and other period wood racks. Clearer images of the product will follow soon.
If you are a fan of wooden vintage coat hooks and racks, you will also love our
– perfect for a busy family home!